Triumph America (2002-2015) Review
Highlights
A relatively rare cruiser
Modified motor from Bonneville
Laid-back riding position
Prices
Overall rating
Next up: Ride & brakes
The Triumph America is a cruiser with real cred – it harks back to the Thunderbird and other Triumphs modified in the States in the 60s and 70s.
This means the America is not regarded as a Harley clone or copy as are many other Japanese cruisers. It's a competent motorcycle too. It's not particularly rapid or sporty but the Triumph America is a pleasure to ride and well put together.
The Triumph Bonneville America was not built with the British in mind, but to crack the massive American motorcycle market, which is why it was officially the longest and lowest Triumph to roll off a production line since the firm was born in 1902. And that's ideal for long, straight highways rather than England's green and pleasant lanes.
And at first glance the Bonneville America is a bike that would appeal to any red-blooded Harley fanatic. In fact the way it looks is the best thing about it.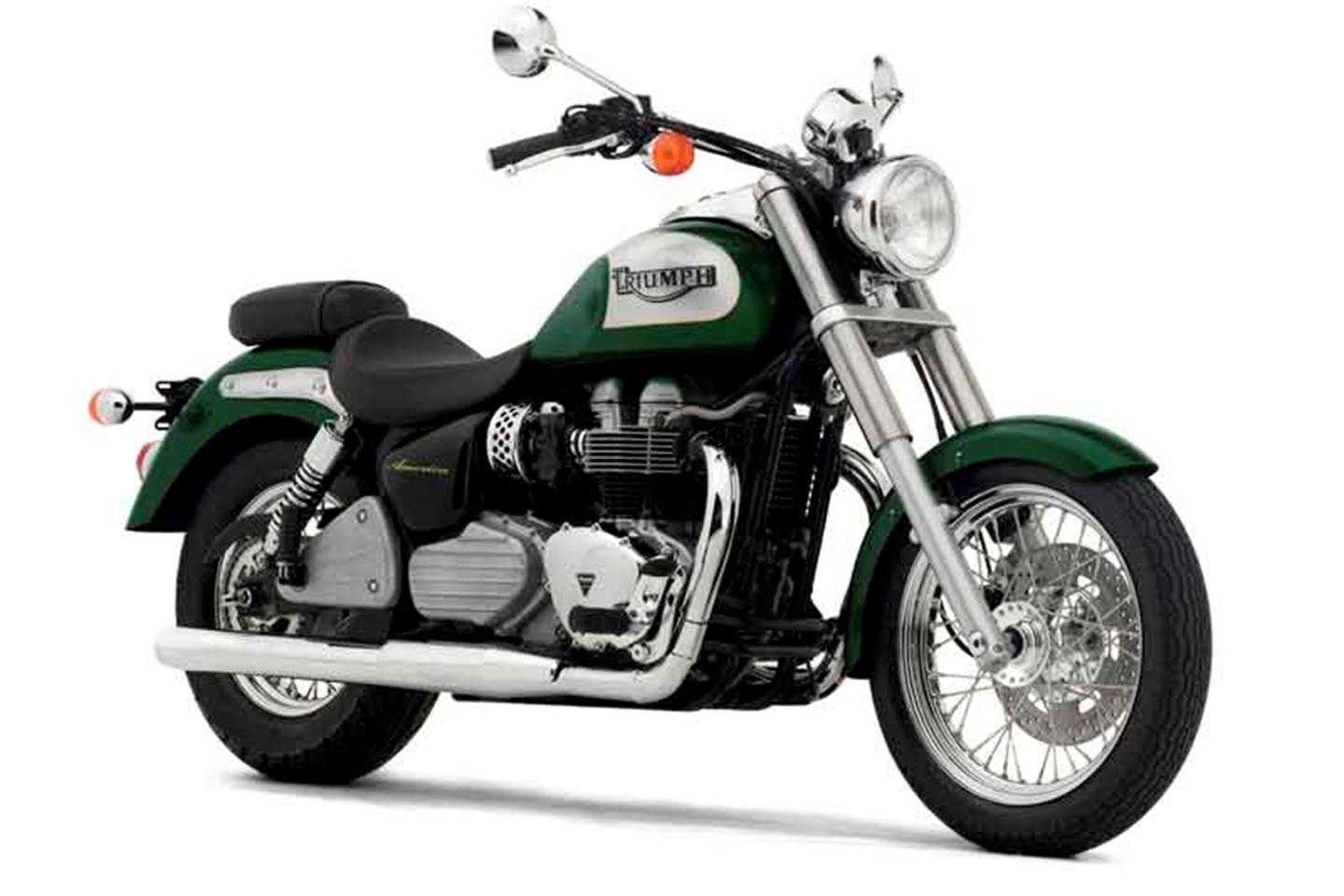 Design of the bike started in October 1998. A staggering 120 versions were drawn and shown to focus groups, before it was whittled down to 15. Finally it was honed into the bike we see today: A fine looking motorcycle which is definitely better in the flesh than pictures.
The synthesis of bold cruiser styling, like the classic wide front forks, pullback handlebars, forward set foot pegs and slash cut exhaust pipes, works beautifully with Triumph trademarks such as the parallel twin motor, two tone tank and old-look tank badge.
The styling is finished off with the warning lights in a chromed console set into the fuel tank, a big white faced speedo and chrome headlamp all of which all do the job they were designed for well. Another nice touch is the pillion footrest hangers that have been designed to look like the toolbox panniers of older models.
Visually this bike is a winner, in terms of performance it will do. It's certainly no better or worse than the many Japanese cruisers on the market today, but what it has which makes it stand out is a really credible styling job and the Triumph badge on the tank.
Ride quality & brakes
Next up: Engine
The Triumph America is much longer and lower than the regular Bonneville. It's surprisingly nimble around town and competent to quite rapid speeds on back roads – certainly capable of outpacing its rivals. Rear shocks are a little bouncy and can transfer big bumps to the rider.
Swing your leg over the low, wide seat and slip into the riding position and you know straight away that you are on a cruiser. You feel like you are sitting in the bike, and with your arms spread wide and feet thrust forward the ergonomics are both comfortable and useable.
The steel chassis, which bears no resemblance to that on the Bonnie launched in 2000, does its job well. Again cruisers are not designed to go round corners athletically - but for a cruiser it handles well.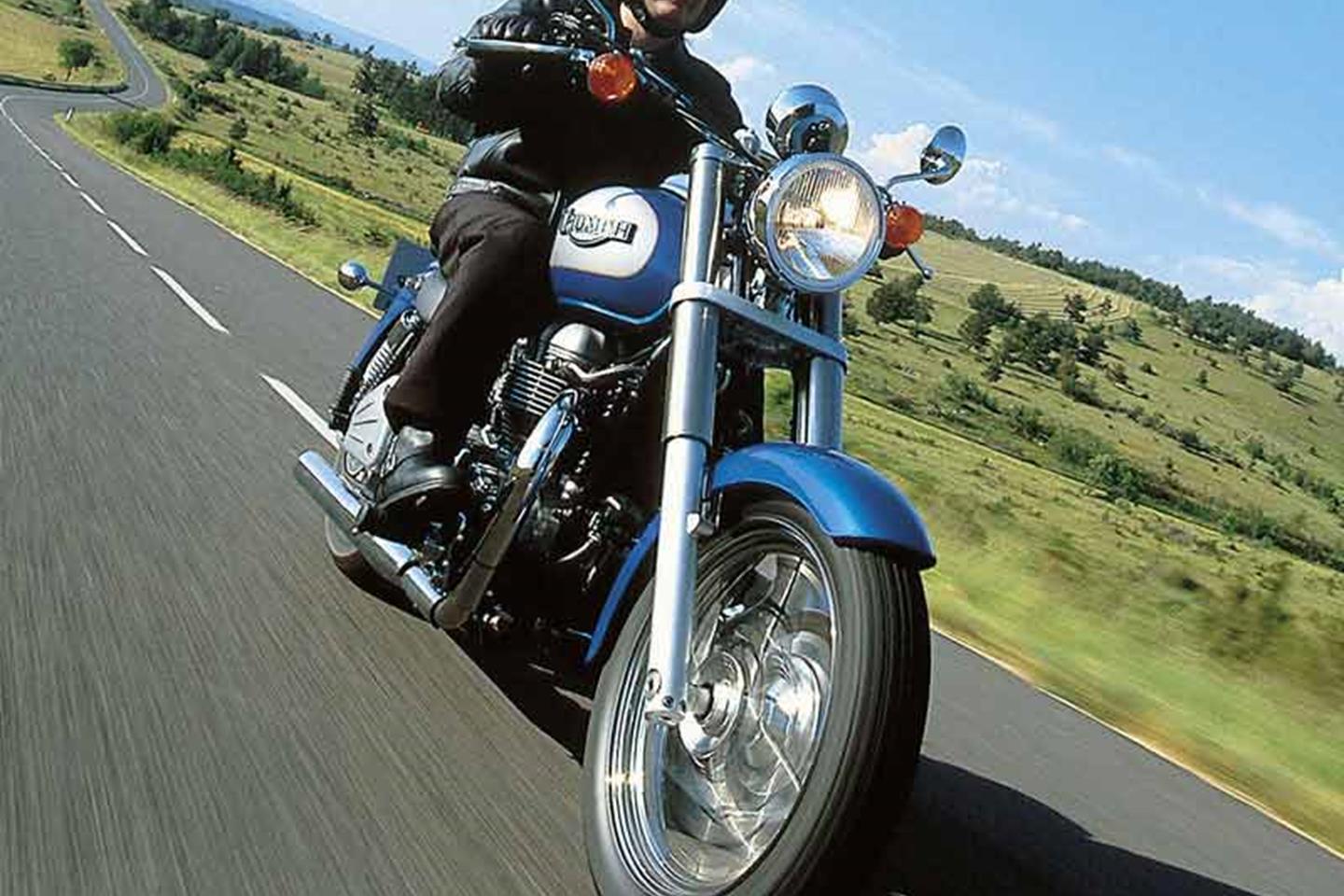 On the straights it is stable and comfortable, through sweepers it is assured and, despite the 1655mm wheelbase, 33.3-degree fork angle and 497lb dry weight, it is easy to manage at slow speed. Plus, the combination of the 41mm fork and twin shocks give you a comfortable ride and with a range of up to 150 miles per tank, that's important.
With a single disc at the front and back the brakes are adequate, but the standard adjustment of the front brake is suspect. The brake is a tad too weak which means you have give it good squeeze, but because it comes back virtually to the bar, two fingered braking is not possible without snagging your other fingers.
Engine
Next up: Reliability
The Triumph America engine is lifted from Triumph's Bonneville but with a 270° crank rather than a 360° one. This means one of the pistons is a quarter of a cycle in front of the other giving a pleasing V-twin like feel and sound.
Somehow the spirited twin cylinder engine that was the hooligan motor of choice in the '60s has been sanitised and sedated to such an extent (not least of all by emission and noise regulations) that today it is a poor relation compared to the original.
The current air-cooled motor is now 790cc and despite the twin overhead cams and four valves per cylinder and a revised firing order from the standard 360 degrees to 270 it is a bit lame.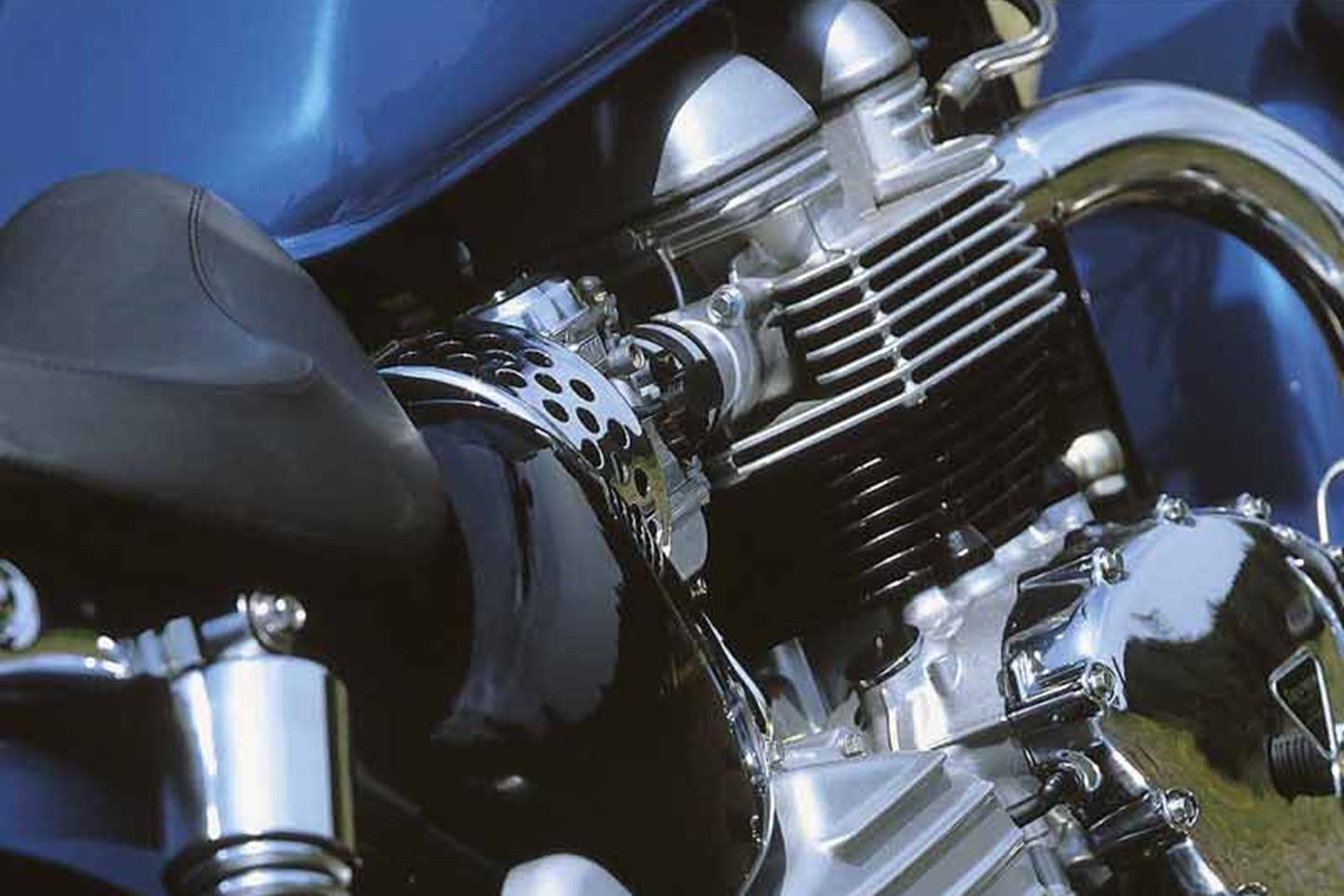 Triumph are proud of the noise it makes but with its oh-so-PC pipes the truth is it actually phut-phuts like a ditch pump. The first thing most owners will do is ditch the OE pipes for after-market versions (which, coincidentally, Triumph offers along with a wide range of other accessories).
To try and give the motor that suitably long-legged cruiser feel Triumph have also modified the cams, added twin balancer shafts to complement the revised firing order and made the fifth and final gear taller. All that leaves you with a maximum power output of 61bhp at 7400rpm and a peak torque figure of 44ftlb at 3500rpm.
It also leaves you with a somewhat breathless and vibey motor that doesn't go far enough to match the spirit of the bike's stylish and purposeful looks. It's an engine that lacks soul, has no real grunt and crucially for a cruiser never really feels like it is chugging you forward with big fat lumps torquey power.
It will sit comfortably at 60mph (that's fast in America!) and is good for 100mph if you have a rush of blood to the head and actually want to go that fast in that riding position. But if you want to be inspired by the engine…
Many will argue that a cruiser is not about performance, which is true, but it is about attitude, and the attitude of this engine is far too laid back for its own good.
Reliability & build quality
Next up: Value
The Triumph America's 790cc twin cylinder engine's very under stressed and has no recurring reliability problems.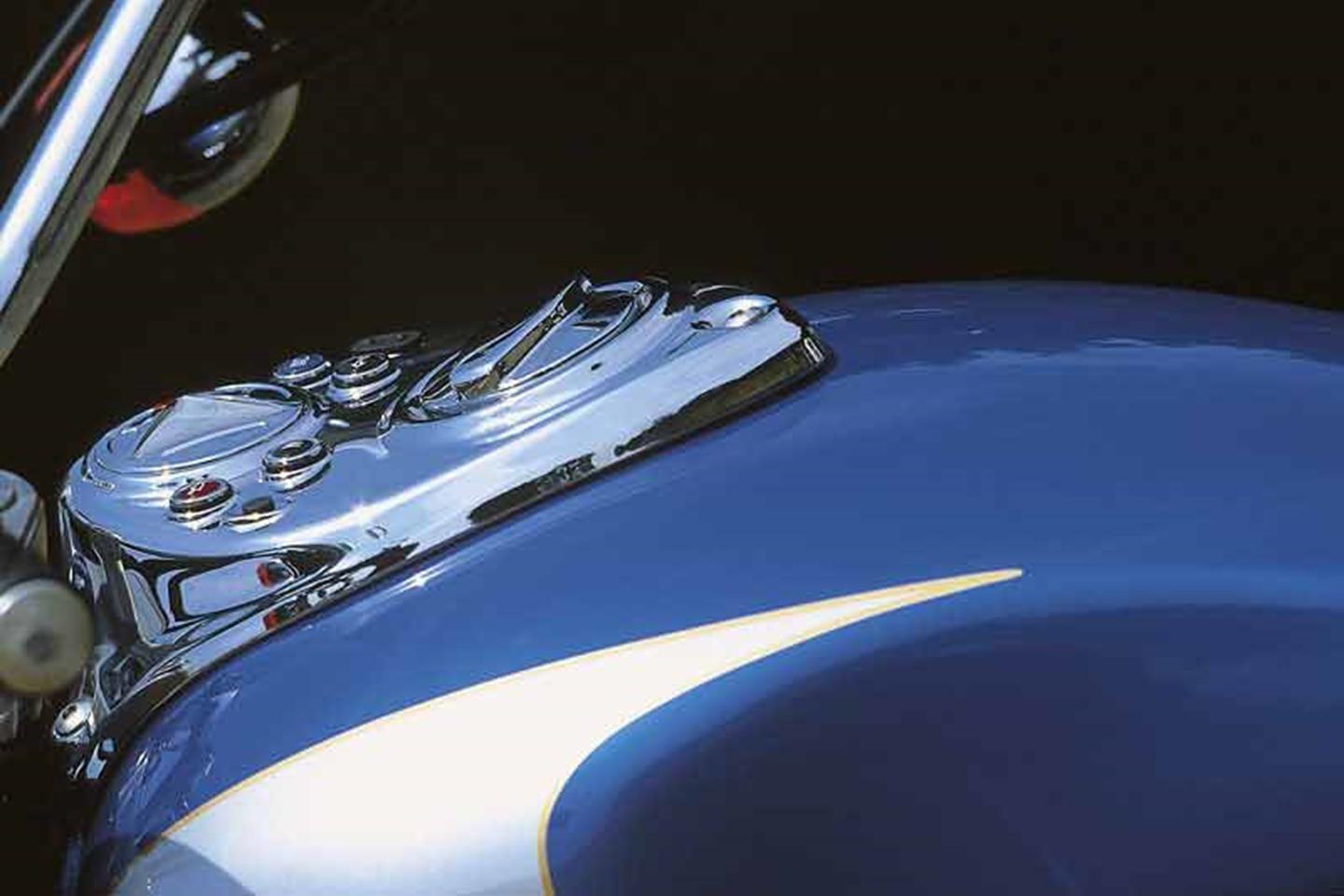 Build quality is well above average. Triumph understands the British winter and road salt better than most manufacturers so the Triumph America is quite durable. It still won't run through winter untreated and clean up like new come spring – but no motorcycle will.
Our Triumph Bonneville America owners' reviews show a prevailing problem with the rectifier on these bikes. Make sure that's been fixed before you buy used.
Value vs rivals
Next up: Equipment
Good value if you can find one. Obviously designed squarley at the American cruiser market it's a relatively rare bike in the UK.
Equipment
The Triumph America's handlebars are wide and swept back, the seat height is a low 720mm. The single clock white faced speedo is mounted above the slab top yoke and chrome headlight surround looks classy. Foot pegs are forward mounted in the cruiser style but it's still possible to stand up to absorb shocks when hitting larger bumps.
As Triumph rightly identify, Mr Cruiser likes to personalise his bike more than most, and while the bike only comes in two colours (red or black) there are a wide range of accessories available, plus some custom paint options.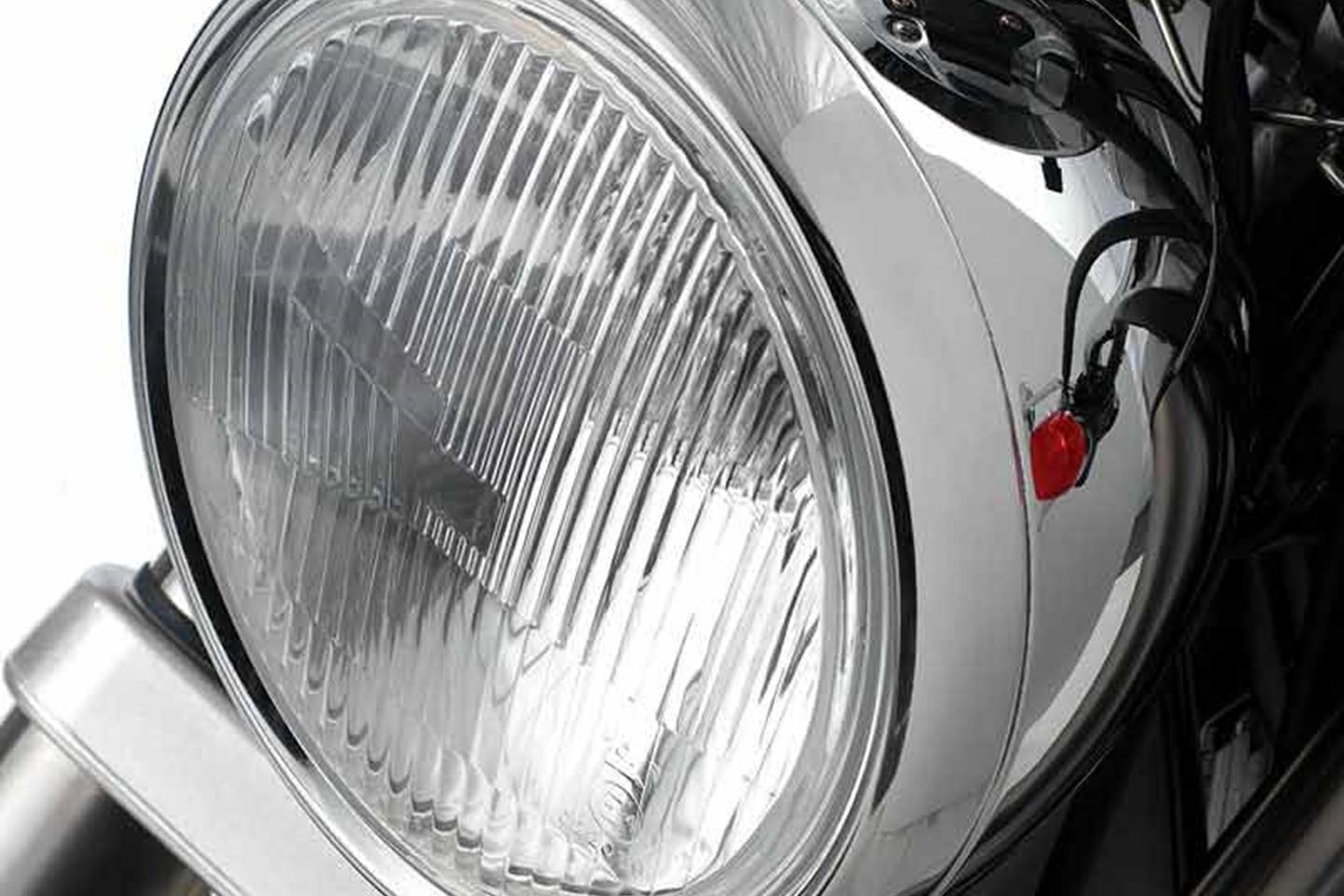 As well as a silver and green version and a British racing green version the most outlandish features a Union Jack design on the tank and front mudguard. Other extras include seat, screen, luggage, and exhaust and chrome options.
On the first bikes that are produced the lower fork yoke will feature a chrome cover, that's because the early steel version which was rushed out to get the bike into production even Triumph agree is a bit nasty. Later models will feature a new ally yoke.
Specs

Engine size
790cc
Engine type
8v parallel twin, 5 gears
Frame type
Steel spine
Fuel capacity
17 litres
Seat height
720mm
Bike weight
226kg
Front suspension
None
Rear suspension
Preload
Front brake
310mm disc
Rear brake
255mm disc
Front tyre size
110/90 x 18
Rear tyre size
170/80 x 18
Mpg, costs & insurance

Average fuel consumption
49 mpg
Annual road tax
£96
Annual service cost
£140
New price
-
Used price
£3,900 - £7,000
Insurance group
10 of 17
How much to insure?
Warranty term
Two year unlimited mileage
Top speed & performance

Max power
61 bhp
Max torque
44 ft-lb
Top speed
110 mph
1/4 mile acceleration
15.7 secs
Tank range
180 miles
Model history & versions
Model history
2002: Triumph America launched.
Owners' reviews

for the TRIUMPH BONNEVILLE AMERICA (2002 - 2015)
14 owners have reviewed their TRIUMPH BONNEVILLE AMERICA (2002 - 2015) and rated it in a number of areas. Read what they have to say and what they like and dislike about the bike below.
Review your TRIUMPH BONNEVILLE AMERICA (2002 - 2015)
Summary of owners' reviews

Overall rating:
Ride quality & brakes:
Engine:
Reliability & build quality:
Value vs rivals:
Equipment:
Annual servicing cost:
£140
Go America!
11 July 2021
Version: 865cc
Year: 2008
Annual servicing cost: £200
Not the fastest but very comfortable for all day riding also economical (55 - 60mpg) range upwards of 190 per tank a little heavy for an old un like me to move about (69 years) but great fun.
Ride quality & brakes
Brakes fit for purpose maybe I need to upgrade pads
Engine
Reliability & build quality
Only very minor issues paint very good chrome delicious a little furing on some fasteners
Value vs rivals
Equipment
Great screen could do with being a bit louder
Buying experience: Bought from Motorcycle Mart Kidderminster £4750 including 6 months tax and 3 months warranty couldn't have been better to deal with 10 out of 10 also brilliant aftersales service.
Great cruiser and well made!!!
24 April 2020
Year: 2011
Annual servicing cost: £170
Great cruiser bike and a real head turner, many extras fitted already when bought it. Loads of chrome and great looking bike Pleasure to ride and good quality too. Much cheaper than Harley bikes and better to ride than HD (tested both before bought Triumph)
Ride quality & brakes
Great ride and very good bike. A bit heavy, 250kg wet, but still very nice. About 1 hour to 1.5 hour and you need a bit of the break. Nice cruiser and the best speed is about 60mph to 70mph and no more
Engine
Reliability & build quality
Common known problem is a rectifier so had to change that. Also a stator is known to cause problems as well and best thing is to use an original part, although an expensive one. Never use a chinese substitute, no matter how mucha cheaper than original. They do not fit properly and will not last long Apart from that all good, although had a bike only 2 years and done 4000 miles only
Value vs rivals
Original parts tend to be very expensive, if you need to replace any. Apart from that all Ok and I am happy with it
Equipment
Bought a bike with many extras already installed so cant comment on the standard bike. Heated grips are great and the toll screen is very useful. Highway pegs (optional) are very good for a long ride
Buying experience: Bought from a bike shop and had very good experience overall. Because so many extras installed on the bike the price was a bit higher then other bikes but it was all worth it. Advertised at £5600 and bought it for £5400 but again, many many additional extras plus got many original parts with the bike, the bike was cleaned and waited for me already. Had to collected and got help to load into the van (many miles from home hence had to use a van) Preferred that way, than waiting 4 weeks for the bike to be delivered to my house (as you would when you buy a new toy :-) you want to have it straight away!!!)
Ideal for my American road trip
11 November 2019
Year: 2010
Its a comfy long distance cruiser, not powerful but all day comfortable. Brakes could do with being better but engine good with low down lazy power
Ride quality & brakes
Extremley comfortable in the 4000 miles I rode in the states never once had a numb bumb. Brakes are not all that could really use a twin disc up front
Engine
Its a cruiser so never going to be ultra powerful. Having said that, in the real world it only becomes a problem at higher motorway speeds when it runs out of puff. Sounds great and pulls away well
Reliability & build quality
Regulator/rectifier is placed behind the engine low down in front of rear wheel. Hence little cooling and open to crud. Mine went while on a recent trip across the states. All sorts of gremlins started including fuel light coming on when not charging, very weird
Value vs rivals
Equipment
Pretty much zero equipment not even a fuel gauge
Turns heads and ears wherever I go
07 October 2018
Year: 2011
I love my Bonnie. Wherever I go people stop, look and have a chat about my lovely bike. Nippy, comfy, cheap to run, what more do you want?
Ride quality & brakes
The most comfortable bike I have owned so far. Rear brake has to be tamed a little. Tyres fitted to my bike are rubbish in the rain.
Engine
Sounds fantastic. Pretty fast for a cruiser.
Reliability & build quality
Value vs rivals
Equipment
Not much in the way of instruments but less to go wrong I suppose.
Buying experience: Bought from a dealer second hand.
Triump's perfect for a Lady!
28 November 2016
Year: 2002
I'm vertically challenged at 5'5 so the forward controls were not viable. Replaced them with a kit to bring them into a more mid-control position - much better. The kickstand however, is a real problem. Not possible for me to use my foot, have to bend over to pull and push into position. Will be checking into a replacement or extension. Other than than, this bike is sweet! It is so balanced and easy to ride. Not as heavy as most bikes either.
Ride quality & brakes
This bike is more reliable than the Harley we have. It cranks without a problem and is nimble on the road. It idles and is smooth as silk at slow and higher speeds. Little fatigue when riding. The only fatigue is in shoulders but that is probably because I am short and have to ride in bent-over position the entire time. It is still a bit tall for someone who isn't very tall. I'm 5'5" and struggle touching ground when I need to walk it backwards especially in an incline or decline or uneven pavement.Makes it darn near impossible to do at times.
Engine
Very powerful but not overkill.
Reliability & build quality
Screw heads around the clock area rust pretty easy.
Value vs rivals
Equipment
Kickstand is a real problem. Folds in so tight under the muffler I have to use my hand to pull and then push into full out position. The forward controls are not viable for shorter people-fortunately there is a kit out there for $400+. Still not the greatest, but helped. I love this bike because it is the only one I've been on that was perfectly balanced and not too top heavy for my height/weight. It is sleek and fast looking and sexy too. I can definitely keep up with the guys on this one!
Buying experience: Bought mine privately.
Centerstand
24 April 2016
Year: 2016
Would be better with a centerstand fitted as standard making chain maintenance simple and rear wheel access better.
Ride quality & brakes
Engine
Reliability & build quality
Value vs rivals
Equipment
Not a Harley.
29 March 2016
Version: lt
Year: 2014
Annual servicing cost: £50
Overall I have no regrets in purchasing a Triumph America..... For myself, It was between a new 1200 Sportster and theTriumph, and after riding both it was the Triumph, no question. At high speed, in the corners, or especially during extended saddle time it was for myself a better engineered motorcycle.
Ride quality & brakes
Suspension is an easy upgrade. Most owners seem to do this.
Reliability & build quality
4 out of five because the cost cutters in production choose to use plastic on key parts which are obvious to even a casual observer. Also rear suspension needed an upgrade.
Value vs rivals
Equipment
disappointed from hemel
21 October 2015
Year: 2014
Engine has a limiter on it 97 is top speed? on mcn review states top speed 124
Ride quality & brakes
Engine
Reliability & build quality
Value vs rivals
Equipment
check before you buy
26 May 2015
Version: standard model
Year: 2014
It took m a long time to return to Triumph ownership after a run of faulty Hinckley bikes but I wanted to fly the flag so I bought the 2014 America. The new bike had a misaligned mudguard, chainguard, headlamp assembly and the gaps in the rear subframe were different on each side, the genuine accessories were faulty and the whole attitude of Triumph to quality control was in my opinion very poor. I loved the engine but cound the rider triangle too compact, so at great personal expense I traded it in for trusted japanese build quality
Ride quality & brakes
This most recent bike reduces the riders triangle which I guess makes it physically a better fit for a broader range of riders however it did not suit my 6 foot frame.
Engine
I've always loved the parallel twin, it performs well and thrums along with a good sound. Its a shame that you have to use the false choke to start a warm engine why doesnt it just start the same as any other bike with EFI
Reliability & build quality
See above, check carefully before you commit to buying
Value vs rivals
Equipment
Why cant they fit a locking fuel cap and provide warning lights you can see, with such basic equipment youd think it would be easy to get it right
Buying experience: The dealer said most of my problems were with the assembly process which wasnt down to them
19 May 2015
Version: LT
Year: 2014
Very comfortable bike over long distances. Swap the tall screen for the summer screen impoves the look of the bike no end.
Ride quality & brakes
Engine
Reliability & build quality
No issues at all
Value vs rivals
Equipment
Buying experience: Dealer. Experience was a good one, informative helpful without being pushy
Easy Rider
22 March 2009
What a relaxed ride! Having had bigger and much more powerful bikes (CB1000, CB1300 etc) i have to say that returning to a smaller twin is an absolute delight. No longer do i feel the need to travel everywhere at balistic breakneck speeds. Just sit back and enjoy the ride ;-) Sounds great with an adictive burble and a definate pop pop pop on the over run. All day comfortable and good miles to the gallon. No more wing wing wing bikes for me.... it's wap pap pop from now on :-)
Ride quality & brakes
Engine
Reliability & build quality
Value vs rivals
Equipment
A beautiful bike but ...
04 January 2009
If you're into cruisers then this is the bike to have. There simply is no better looking cruiser around. This is obviously a plus for those who like attracting the looks at traffic lights. I bought mine in Pacific Blue and New England White. Aesthetically, it is perfect. Having said that, I made the mistake of buying a cruiser without really making sure that I could live with the reduced manoeuverability of the bike and the sparse instrumentation. Mine did not even come with a fuel warning lamp and the rev counter was an optional extra. I can't help thinking that Triumph seem to fall between two stools with their products. They cannot match the reliability of the Japanese and are miles behind the continental Europeans in terms of ride quality. All they seem to produce are adequate motorcycles. Okay, maybe I'm being too cruel and I can almost hear those amongst you saying that I should have stuck to road bikes. The message I'm trying to convey is that a road bike (e.g. Guzzi's Breva range and BMW's R1200R) offer versatility that a cruiser can never provide and I miss that enormously. Oh, and another thing - if you really want to feel what it's like to get an epidural, ride on one for about 30 minutes!
Ride quality & brakes
Engine
Reliability & build quality
Value vs rivals
Equipment
My America,
25 August 2007
The perfect bike for me....so much so that when some tw@t got in the way and wrote it off...I got another one!
Ride quality & brakes
Engine
Reliability & build quality
Value vs rivals
Equipment
Lovely Bike
06 June 2007
A lovely little number! Real laid back ride, could do with louder std exhaust note, but still burbles well. Over 50 to gall two up, lazy power, and goooood looks, admired by all.
Ride quality & brakes
Engine
Reliability & build quality
Value vs rivals
Equipment
Back to top