Yamaha FS1-E: 'They could hit 55mph'
Published: 24 October 2017
Updated: 30 June 2020
"I don't care much for Fizzys. It goes back to 1980 when I became faintly repulsed by their clumpy rubber bicycle pedals and puny frames and pathetic small-bike looks. I loathed the way they herded together outside the newsagent opposite the school entrance, three yellow ones and one revolting bronzy-puke one, L-plates contemptuously falling or fallen off.
"My bike was a Suzuki X-1, a proper sporting machine that sat just the wrong side of the 1977 legislation that restricted fifties to 30mph. Those unrestricted Fizzys could hit a genuine 55mph down Stanmore Lane, the second steepest hill in Winchester. The idiots on board came screaming past, 14-hole DMs sticking out at ten-to-two on those pedals, feather cuts flowing, school blazers flapping, before leaving me alone with nothing but the heady whiff of cheap two-stroke oil and their unconfined joy. I'm not bitter.""
Trio to ride Route 66 in 10 days on Fizzies for Alzheimer's Research UK
First published 6 May 2019 by Dan Sutherland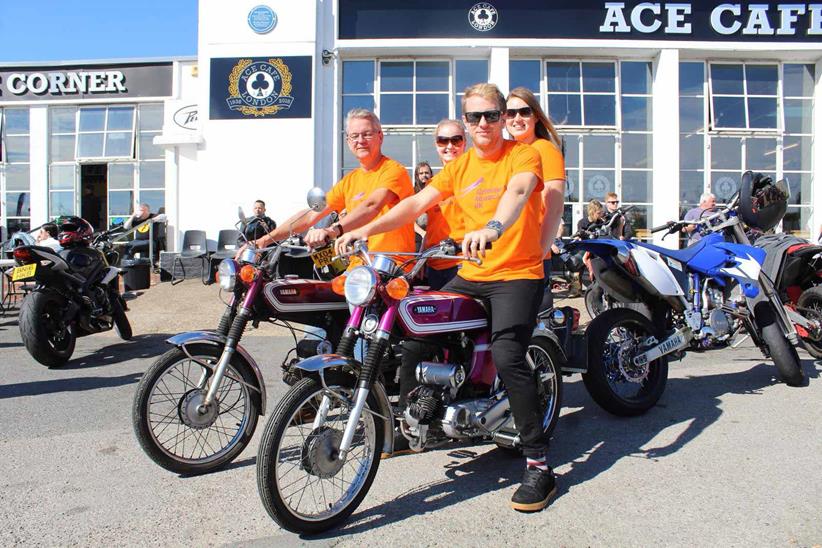 A family trio will attempt to ride two Yamaha FS1-Es across the iconic Route 66 in just 10 days later this month to raise money to combat alzheimer's disease.
Staring on May 24, 54-year-old Peter Shand, will depart with his son Darrel, 30, and daughter-in-law Sam, 29, in honour of Peter's late father Stanley, who had alzheimer's and died last September.
Raising money for Alzheimer's Association USA and Alzheimer's Research UK, the journey will see the group travel around 250 miles a day across eight states and three time zones aboard their 49cc single-cylinder two-stroke pedal-and-pop Yamahas.
The route will begin in Chicago and end on Santa Monica Pier, in California.
Father and son duo Peter and Darrel Shand will be riding the bikes in an attempt to raise £66,000 for research into new treatments, with Sam following in the support vehicle, carrying spare parts in anticipation of the inevitable breakdowns.
One of the two bikes is Peter's own popsicle purple bike, which has been in his family since 1974 and was first purchased by his father for his older brother. After that, it was owned by Peter's two sisters, before falling into his possession.
The other machine has been recommissioned ahead of the trip, after being purchased on eBay a year ago as a non-runner.
"They're tiny little old machines which probably will break down," Peter joked. "In the biking world everyone thinks that I'm absolutely bonkers, doing such a long ride on such a small machine. But that was the point – it was to get people thinking!"
Peter was introduced to bikes by his father and worked alongside him as his business partner for 37 years flame and plasma cutting steal, until he was no longer able to work and was forced into care by his declining health.
"I'd worked with my dad all my life," Peter said. "He was my dad, my best friend and my business partner. It was awful seeing him in the home with Alzheimer's, so I thought: 'what can I do?'
"I've always wanted to ride Route 66 so I said – let's do it on the Fizzies and see if we can get some money for research."
Speaking about the ride, Tim Parry, director at Alzheimer's Research UK, said: "We would like to wish Peter, Darrel and Sam the best of luck for their Route 66 challenge. We are looking forward to getting updates on their progress.
"We can't thank them enough for raising vital funds for dementia research and helping us in our mission to make life-changing research breakthroughs possible for people with dementia.
"There are 850,000 people with dementia in the UK and the condition has a devastating effect on hundreds of thousands of families," he added.