CE into the future: BMW CE 04 electric scooter is just the start
Published: 07 July 2021
Updated: 08 July 2021
BMW CE 04 on the road

BMW CE 04 electric scooter left side

BMW CE 04 dash

BMW CE 04 helmet storage

BMW CE 04 turning right

BMW CE 04 phone charging compartment

BMW CE 04 rear

BMW CE 04 seat

BMW CE 04 spyshot
BMW have unveiled the latest of their electric scooters, the CE 04 and apart from its futuristic styling it's actually quite a normal sounding machine.
Some electric manufacturers have been guilty of relying on flash gimmicks or whacky design quirks (hubless wheels, shapeshifting geometry, haptic cupholders etc.) but BMW haven't fallen into that trap with the CE 04.
Related articles on MCN
Instead, they've presented what on paper at least looks like a practical maxi-scooter that just so happens to be powered by electricity rather than dead dinosaurs.
The CE 04, BMW say, makes a healthy 41.4bhp and 45.7lb-ft of torque, has a range of just over 80 miles with a top speed of around 75mph and will charge from 20% to 80% in 45 minutes with a fast charger (0%-100% without a fast charger takes 4hrs 20mins).
You also get storage compartments at the side and front plus a waterproof phone compartment with USB-C charging port and optional panniers.
The CE 04 is powered by a 61Ah lithium-ion battery derived from the firm's electric cars, which is also where the scooter's liquid-cooled motor comes from. The battery is integrated under the floorboards of the machine, which is why it's only offered with one size of battery and also why BMW haven't joined some other major manufacturers with a common design. Energy is recovered to the battery under "engine braking" automatically as you ride.
The flashiest piece of outwardly visible bling is a 10.25in TFT dash with integrated map navigation and full smartphone connectivity. The screen's HD resolution and gargantuan proportions mean that all manner of display combinations can be selected including a split between normal riding functions and navigation or media.
You also get a reverse gear which may sound like a gimmick but since the CE 04 weighs in at a claimed 231kg it may well prove to be a useful addition when manoeuvring in a tight city-centre parking space.
Underneath the modern exterior the CE 04 uses a tubular steel frame with 35mm telescopic forks at the front and a single sided swingarm with preload adjustable shock at the rear. Twin 265mm discs with four piston calipers provide stopping power at the front and a single piston caliper is fitted at the rear.
Interestingly BMW say they're not targeting any one particular type of person, such as tempting people out of cars, rather just aiming it at people who want to make something of a statement. There's also no plans to give up on petrol just yet.
"Most of the sales will be in Europe: France, Germany and Spain will be the top markets," says Timo Resch, Head of Sales, Product and Brand at BMW Motorrad. "You might feel the range is less than what you're used to but once you ride it, you realise you don't need it.
"Paris was a big market for the C-Evolution and people only charged once or twice a week. More range means a bigger battery pack, which is heavier and that would spoil the handling. It's not a compromise – it's the perfect combo for us. We also have no plans to stop with internal combustion engines. We don't want to force people on to something and we think the two can co-exist."
To help encourage people more, the CE 04 comes with a five year/40,000km warranty on the batteries. If the expected capacity falls below 80% in that time, BMW will replace them free of charge because they say they know people are worried about the 'liability of batteries'.
Most interesting of all, it seems the CE 04 is just the beginning for BMW. "The name CE 04 leaves a lot of space underneath and above," says Markus Schramm, Head of BMW Motorrad.
"We are convinced e-mobility will become more and more important. The focus is first on urban mobility but we are convinced even with regular bikes, there is a future. You can be sure it is not a single model and you will hear about another model before the end of the year."
This isn't BMW's first attempt at an electric scooter, of course. The last version, the C Evolution, was on sale for six years between 2014 and 2020.
It too was a practical maxi scooter but was hamstrung by its high price; and the CE 04 will cost £11,700 when it arrives at the start of 2022 with the optional fast charge an extra £850. The scooter should also be available for the full plug-in grant of £1500.
Keep an eye out for the full BMW CE 04 review coming soon on MCN.
---

BMW's brave new CE 04 electric scooter spied in testing
First published on 9 June 2021 by Phil West
BMW are close to putting an all-new CE 04 into production and it looks pretty much identical to the concept bike that shocked the world a few years ago.
The Concept Link's transformation to production was hinted at by BMW last year, when the firm unveiled an updated version of the idea under the name Definition CE 04, and now a production-ready version has been spotted in Berlin. Despite its sci-fi looks, the bike is a direct replacement for BMW's C Evolution electric scooter, which itself debuted as a concept model a decade ago before reaching production in 2014.
Related articles on MCN
The CE 04 name will be carried over to the production model, to be joined by a smaller CE 02 electric scooter at a later date. Just as 'R' relates to BMW's boxer range and 'S' to the firm's four-cylinder models, 'CE' is the new title for electric scooters. Later, the letters 'DC' will be used for a planned line-up of electric motorcycles.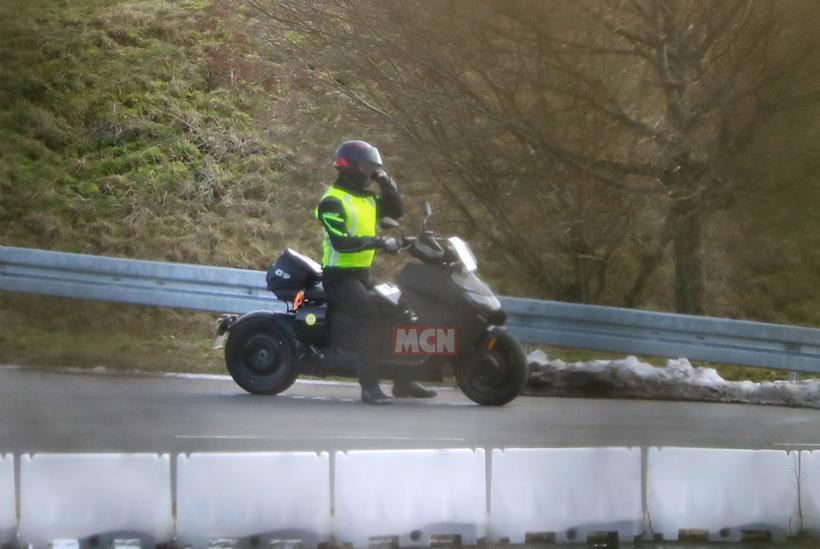 The production CE 04 is actually a very down-to-earth design. Where the C Evolution used a radical cast-alloy chassis that doubled as a battery box and featured an unusual final drive, with a chassis-mounted motor driving a reduction gearbox mounted inside the swingarm via a belt, the CE 04 is much more conventional.
The frame is a tubular steel design, arching up and over a low-slung battery pack that runs the length of the floor – leaving more storage space than the C Evolution. The reduction gearset is now next to the motor, cutting the speed that the drive belt has to move at and eliminating a chunk of unsprung mass. The front sprocket is concentric with the pivot for the single-sided swingarm, ensuring consistent belt tension.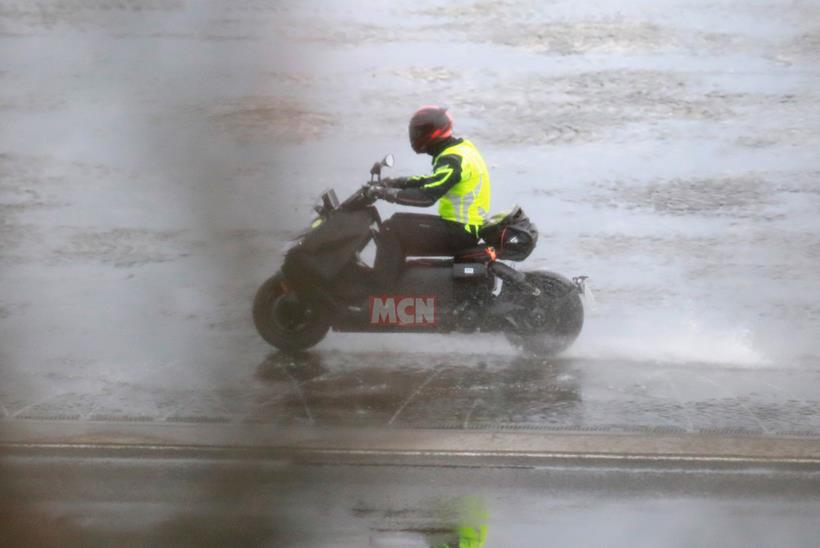 Up front, a set of right-way-up forks hide behind those sci-fi-inspired cowls, along with dual front discs and radial calipers. It's sensible stuff, easy to mass-produce and should be a recipe for a price that's lower than the C Evolution's sky-high cost, which made it as expensive as an R1250GS and hamstrung sales. Performance and range are likely to be at least on a par with the C Evolution; 70mph top speed and a range of 100 miles between.
BMW say the CE 04 will be officially revealed in production form this summer.
---

Tomorrow's world: BMW unveil next gen electric scooter concept with advanced connectivity
First published on 11 November 2020 by Jordan Gibbons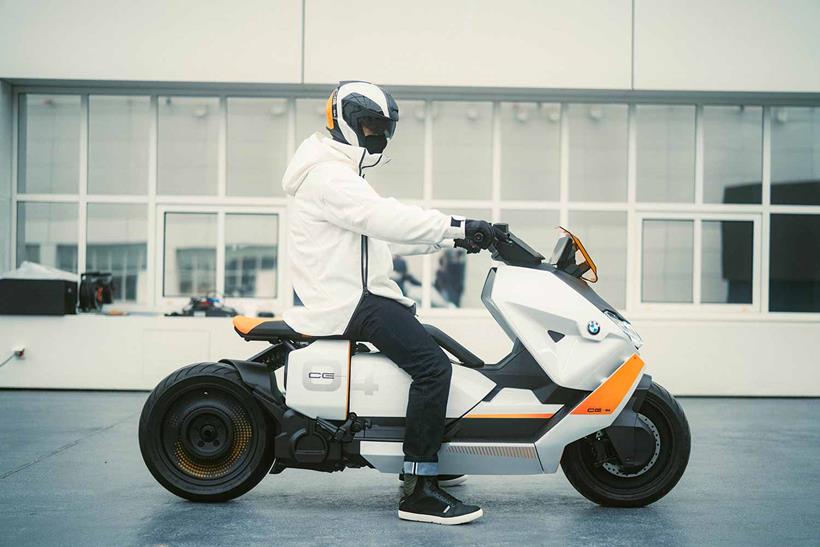 BMW have unveiled the Definition CE 04: a technologically advanced electric scooter concept that brings their 2017 Concept Link one step closer to mass production reality. The idea behind Concept Link was to show rider that without the constraints of internal combustion, the design of a scooter could be radically altered, while also demonstrating how easily it could slot into your life thanks to its advanced connectivity.
Central to the design of the Concept Link and subsequently the Definition, is the use of large flat battery packs under the 'floor' of the scooter. By using the battery packs to create a floor the design opens up the room for a large storage area under the seat, that can be used to store a helmet while also giving plenty of leg space and seat space. It also lowers the centre of gravity considerably, making it easier to manoeuvre around town.
Related articles on MCN
To help the bike stay connected, the concept has a 10.25" full-colour TFT dash, which would not only display important info about the bike but also connect with a phone for music, calls and navigation.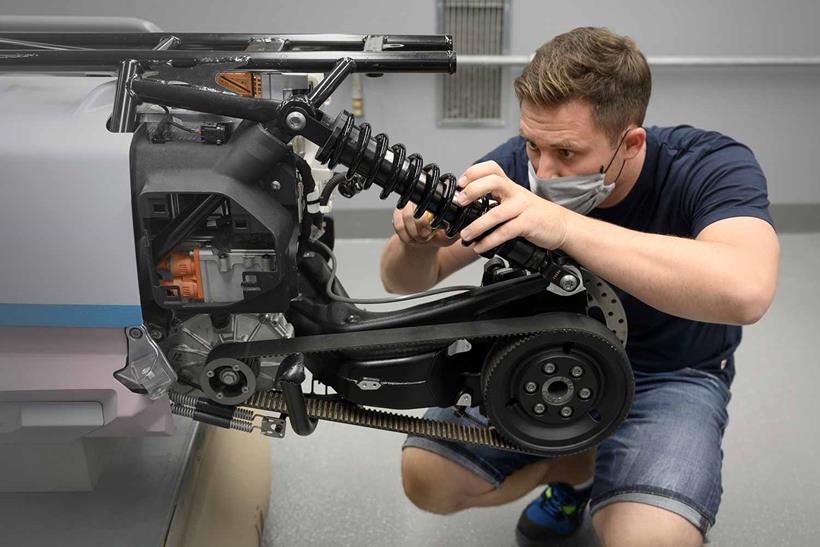 At the unveiling of the Concept Link, BMW also suggested it could link up with your work calendar, seamlessly navigating you from one appointment to the next. To go with the scoot is also a range of funky clothing, the highlight of which is a parka with an in-built wireless charging pocket to ensure your smart phone is always topped up as you ride. Essential really, considering how integral it will be to getting the most from the bike.
"Electric mobility is a central drive system for the BMW Group and we are consistently relying on this technology in our sustainability strategy," says Edgar Heinrich, Head of Design at BMW Motorrad.
"Electric drives are also a current topic for BMW Motorrad, especially for the urban environment. Since 2013, we have been a pioneer in this area with the BMW C evolution scooter. The BMW Motorrad Definition CE 04 is the logical continuation of the electromobility strategy for urban conurbations and provides a concrete preview of what a contemporary production vehicle could look like."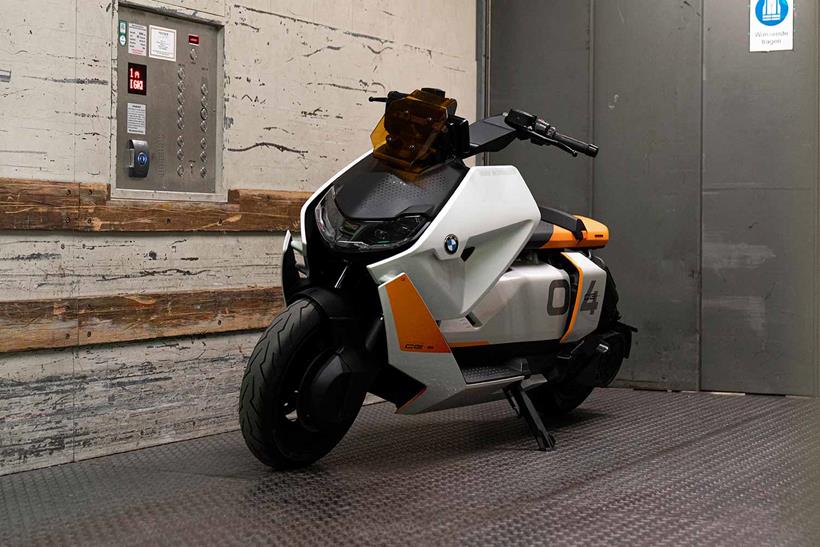 The Definition comes at an interesting time for BMW. The whole group (which includes cars) thinks that 25% of their vehicle sales will be electric by next year, while their investment in battery technology means they'll be in a position to begin manufacturing their own lithium batteries within 12 months.
With the current coronavirus pandemic dramatically decreasing public transport use, while large cities struggle with both congestion and increasing emissions, a new electric scooter probably couldn't come quick enough for BMW.