Hookie, line and sinker: German customisers produce limited run of R nine Ts
Published: 31 March 2021
Updated: 31 March 2021
Hookie Co custom BMW R nine T

Hookie Co BMW R nine T rear

Hookie Co BMW R nine T headlight
Outlandish motorcycle customisers Hookie Co. have produced another custom kit for the BMW R nine T. Unlike their other kits, which are more of a DIY affair, Hookie's Cobra models are all hand-assembled over two months with five different styles to choose from and just ten bikes being made in total.
Related articles on MCN
First out of the blocks is the 'Toxic Red' Cobra seen here. The list of changes is extensive but includes a new subframe, a new fuel tank, rewire with MotoGadget accessories and new controls, as well as the entirely new bodywork.
Underneath all that there's a bit of engine work including Hookie's custom airbox system and an Arrow Pro-Race exhaust. Despite all this custom work, fuel range is still sensible (around 125 miles) and the bike retains all the standard safety features such as ABS and traction control. It even still has heated grips.
The two Toxic Red models have already sold, leaving two each of the Electric Yellow, Stealth Pattern, Dark Copper and Ice Blue.
This work doesn't come cheap at around £30,000 a pop but that price does include the brand new BMW R nine T so the cost isn't quite as alarming as it might first appear.
---

Reversable custom 'Moto-Kit' for BMW R nine T
First published on 29 August, 2019 by Jordan Gibbons
Hookie Co have developed an all-new kit for the BMW R nine T that turns it into a cool custom in just a few hours.
Founded in 2015, Hookie have been customising and modernising machines from their workshop in Germany but now they've turned their hand to something a bit more mass market – far cheaper than the £15,000+ for a full custom machine.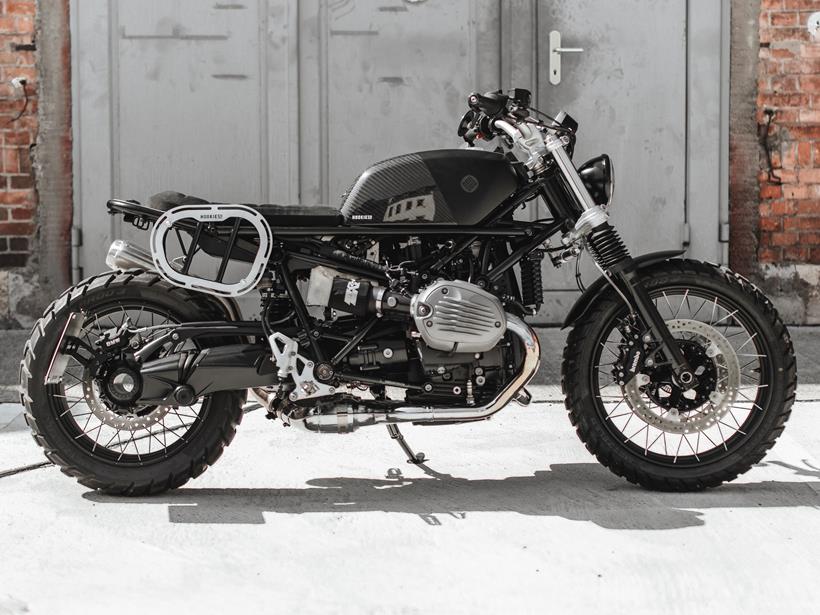 The DIY Moto-Kit consists of a new fuel tank, subframe, seatpan, seat, electronics tray plus the signature Hookie cargo strap.
Designed for people short of time to customise the bike or without the skills to cut and weld bits, Hookie say the Moto-Kit can be installed by the average home mechanic with basic garage tools in just a couple of hours. To create the kit Hookie had to reassess the typical custom way of working, utilising CAD to make the kit easily repeatable.
To build the bike you only have to remove the fuel tank, fuel pump, stock air filter box, seat, subframe, mudguard, indicators and battery. That might sound like a lot but the key bit is that at any point, you can just remove the kit and bolt those bits back on without any damage to any of the parts or the bike itself. Neat huh?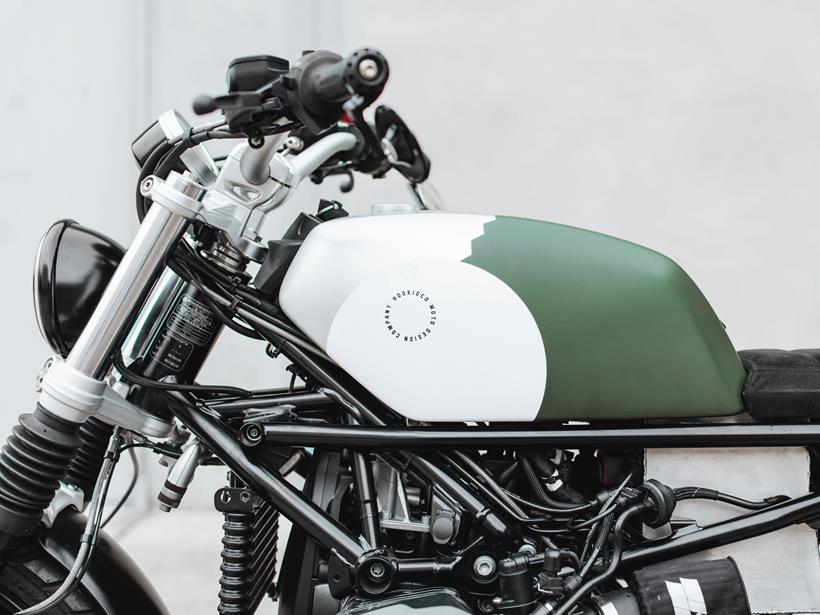 The biggest bit of the kit is the custom alloy fuel tank that Hookie have designed. It's a little smaller than the stock one, at 11 litres, but Hookie say it's still good for around 140 miles. It also uses the stock fuel pump and low fuel sender, so in use it's no different. To go around the fuel tank Hookie have designed a carbon fibre cover, with four different paintschemes called Tricolor, Stealth, Track and Roam.
This bike has Hookie's kit with a few extras including K&N air filter pods, an Arrow exhaust and new Hyperpro suspension that lowers the whole bike by 30mm for a more aggressive stance. The headlight has been swapped for a small LED bates light, while the indicators now come from Kellermann.
The kit, plus all the extras, are available direct from Germany. Find out more here.