Avoid buying a nicked track bike: How to make sure a new toy doesn't belong to someone else
Published: 20 May 2021
Updated: 08 September 2021
UK trackday for motorbikes

Trackday bike on circuit
With the world getting back to some kind of normal and summer fast approaching, a lot of riders will be spending their hard-earned cash on a dedicated bike to enjoy at a circuit in the UK.
This can be a great way to exploit the full performance of a bike legally and without putting your shiny and no doubt more expensive pride and joy at risk of a slide down Paddock Hill.
But experts are warning that a proportion of machines advertised as 'track bikes' have a shady past, with some turning out to be stolen. Obviously, nobody wants to fall victim to buying a nicked machine. Firstly, it only lines the pockets of crooks and fuels the trade in stolen machines.
And secondly, you stand the risk of having the machine seized by the police and could end up in trouble yourself. The good news is that there are plenty of tell-tale signs when it comes to spotting ringers.
"If the engine or frame numbers have been erased or altered then the bike is very likely to have been stolen at some time," explains vehicle crime expert and Met Police consultant Dr Ken German.
"My advice is to check the bike to ensure the digits have not been messed with and perform an HPI check for the bike's history. Another thing you can do as a final measure is check stolen bike pages on social media."
Dr German's advice is echoed by dealer Paul Fryer, who owns Black & White Bikes in Hagworthingham, Lincolnshire. He said: "The golden rule of buying a track bike is having a V5 document. This is important because there are so many stolen bikes out there. It's not absolutely crucial, but it's at least a sign that it's genuine.
"You should also look out for people who proclaim that a bike is a Cat-B write-off. These shouldn't really be available on the open market and in actual fact a lot of them have just been stolen. It's always best to avoid these machines."
There are plenty of other warning signs that a trackday bike offered for sale has been stolen. A snapped steering lock is a pretty good indication something is wrong and is also something you might not think to check in the heat of the moment when your mind is already riding over the mountain at Cadwell Park.
Likewise, a damaged ignition barrel, aftermarket keys, a complete lack of vehicle history or a hastily applied or recent colour change that can't be accounted for should also ring alarm bells.
---

Things to consider when buying a trackday bike
First published on 9 February, 2018 by Dan Sutherland
To help you find the ideal machine for your budget, MCN spoke to Paul Fryer - Owner of Black & White Bikes, in Hagworthingham, Lincolnshire. Paul sells track-ready machines in his showroom and makes bespoke bikes to order.
As well as building bikes, he has also competed in various club racing championships, including the Honda Hornet Cup and the Bemsee Minitwins series.
"People need to take things seriously. When you're buying a track bike, spend as much money as you can afford because you do get what you pay for now. There are still good and bad examples and the same rules apply as when buying any other second hand bike.
"You want to be as thorough as possible and you should take a mate with you if you can. The golden rule of buying a track bike is having a V5 document. This is important because there are so many stolen bikes out there. It's not absolutely crucial, but it's at least a sign that it's genuine.
"There are three types of donor vehicles that you can buy for a trackday. Firstly, you can buy an existing track or race bike that's been fully converted already. There are subtle differences between them, so people are happy to buy both for this purpose. You get a lot of kit for your money this way because people have spent a lot of the money for you. It could all easily all be worn out by now, though!
"The next route is to buy a crash damaged road bike. A lot of people do this and do the conversion themselves. This way, you get a good, cheap road bike and there might even be some bits you can sell on! It hasn't been thrashed on the track all of its life, either.
"The downside is that it's had an accident, so you need to make sure it's safe. You need to check the insurance assessment has been done and it's been done correctly. I quite like this route, but you do need to know what you're doing when dealing with the damage on them. I'm actually doing a bike of my own in this way.
"The third option would be to buy a standard road bike and convert that to a track machine. Hopefully, that won't have any damage, but unless you get a bargain, it will be the most expensive method of doing it. A lot of customers we have do take this route and it's popular with those who have got the budget to do it.
"It's important to remember that a race track is only a bit of tarmac though, so any road bike produced in the last 20 or 30 years designed to go on the road can be used as a trackday bike as it is!"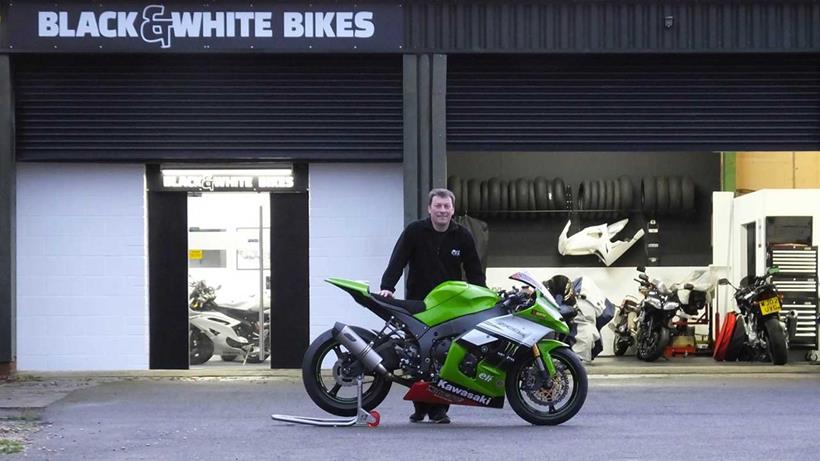 The conversion process
"The first thing to do really is to fit crash protection, as you want manage the financial loss from your investment in the event of a crash. Next, remove all the plastics and replace them with fibreglass panels. After that comes smaller trinkets to help make your bike stand out, such as rearsets.
"You've got to be very careful now with aftermarket exhausts on track, due to noise testing. You need to make sure that yours will pass the noise restrictions, which vary from track to track.
"I would always spend money on suspension over performance enhancements. Spend some cash on your gearing too, as standard road bikes are over-geared.
"If you've still got money left over in your piggy bank, then start spending money on engine parts. If you bought a litre bike – which I don't recommend – then there is obviously less urgency to do this. Having said that, having a bike mapped on the dyno for better throttle response is a good thing to do."
What would you recommend?
"One of the top-sellers we have is the Suzuki GSX-R750. It's a brilliant middle ground bike and you get the best of a 600 and a 1000 with none of the drawbacks! If I had a showroom full of 750s, I could sell them all day long.
"You could also look at 600s and either a Yamaha YZF-R6 or Honda CBR600RR would be perfect. A 636cc Kawasaki ZX-6R from 2003 onwards offers a bit more midrange than the other supersports and they are fetching a lot of money now, but they are still very good bikes.
"Another favourite of mine is the Triumph Daytona 675 from 2009 onwards. Although the R version offered more bling, I would opt for a standard bike and then upgrade the suspension to something better than the R has.
"The only thing people moan about with this bike is that it is that they are a little underpowered, however the handling is so much better than any other 600cc or 1000cc machine.
"Older, SRAD-series Suzuki GSX-Rs are popular, too and offer good value for money. I don't object to anyone putting anything on a track and if you want the best value, then go through the steps I have just given you."