SUZUKI GSX1300 B-KING (2007 - 2012) Review
Highlights
Naked version of a Hayabusa
Effortless power and torque
Just as quick as the superbikes of its day in a straight line
Prices
Overall rating
Next up: Ride & brakes
Having tempted bikers since the 2001 Tokyo Motor Show with the potential of releasing a road-legal supercharged naked Hayabusa, the Suzuki B-King was revealed in 2007. Lacking the supercharger, but equipped with a ridiculous set of exhaust pipes, the B-King was overweight and ugly. It flopped not only in bends, but also in the sales charts.
What's happening now?
By the time production was halted in 2012 (ironically it was in development for longer than it was sold) the B-King had gained an unlikely cult following thanks to its bonkers 179bhp motor and unique looks that are easily customised. It's now more popular than ever – but the supercharged Kawasaki H2 does make you wonder 'what if…'
Despite its sports touring capabilities, the Hayabusa was actually had quite an aggressive riding position with the rider's weight held on the wrists. The B-King has far more relaxed ergonomics for those who want it.
And it wasn't just the riding position that relaxed. Its engine was retuned for a comparatively sedate 164bhp with an electronically limited 150mph top speed. It may have been calmer than the 'Busa, but the Suzuki B-King was just as quick as the superbikes of its day in a straight line.
The verdict is still up in the air regarding the futuristic, dynamic looks of the Suzuki B-King. It seems you either hate it or love it.
A lovely road motorcycle, the B-King has loads of torque and is easy to ride despite its size. It's smooth, has good brakes and its only weakness is its soft rear, which results in a lack of traction when pushing really hard.
The B-King very nearly didn't get made at all. "We developed the engine for the B-King at exactly the same time as we developed the new Hayabusa engine," explained Suzuki's Chief Engineer Hiroshi Iio at the bike's launch. "The engine is exactly the same as the one used in the 2008 Hayabusa but has different exhaust and intake systems.
"We considered if it was possible to make a naked bike with the same power as a Hayabusa and at first I thought that was unrealistic, but in testing the B-King has stability beyond our expectations."
Watch: Suzuki B-King video review
Ride quality & brakes
Next up: Engine
Despite the Suzuki B-King's bulk it handles far better than its size suggests. Once on the move the B-King's weight disappears, you would never guess its actual weight.
The brakes are excellent, you only notice the lack of ground clearance on track but the shock is a little on the soft side and it can soon start fighting for grip.
Some owners have opted to switch the OE 200/50 rear tyre for a 190/55 option to make the bike tip in faster.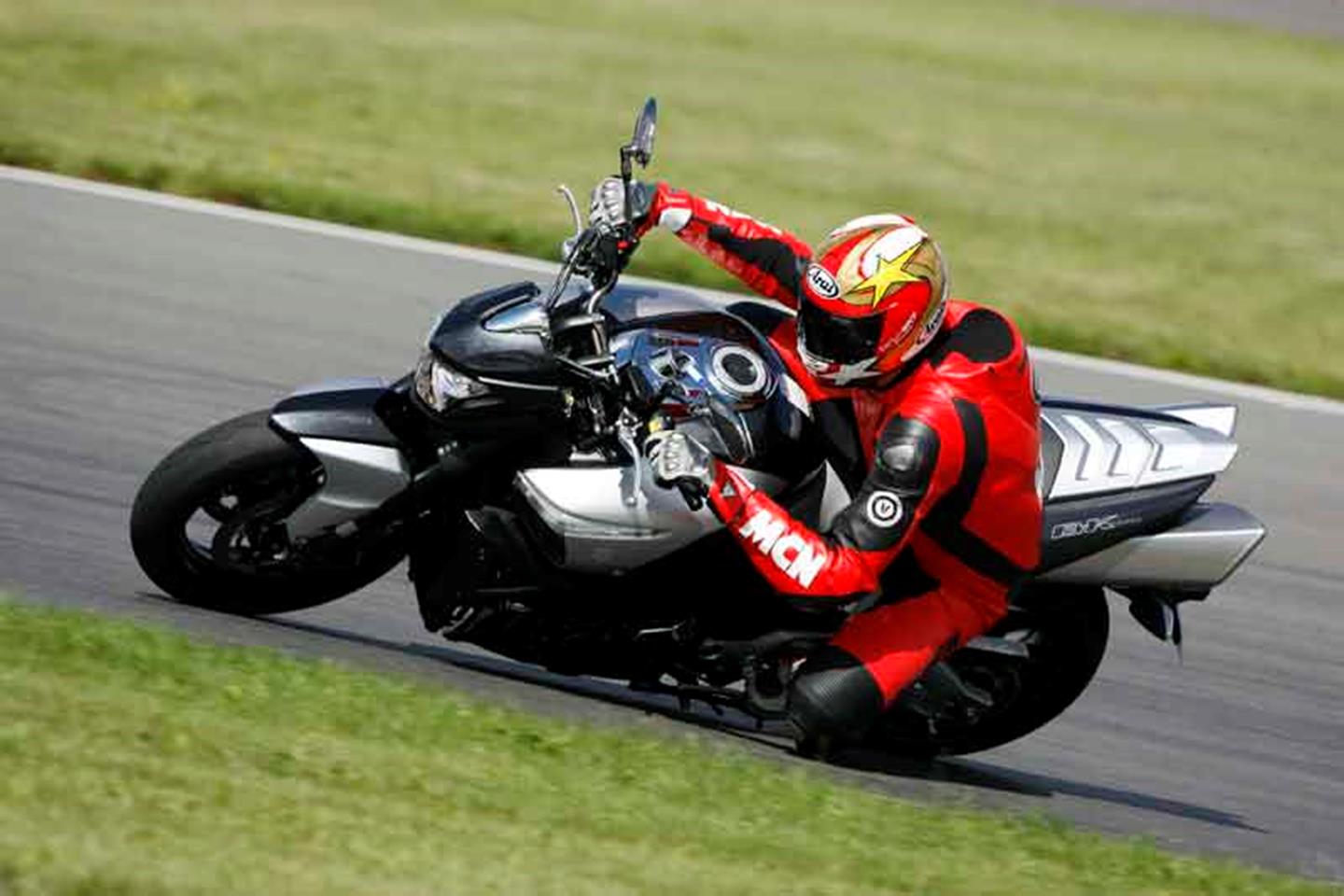 Engine
Next up: Reliability
The Suzuki B-King's engine comes from the new Hayabusa and produces 164bhp with an arm-ripping 94.5 ftlb of torque.
Over a standing quarter mile the B-King is just as quick as any sports 1000cc, if not quicker. Shame the engine is limited to 150mph as it has the potentially for much more.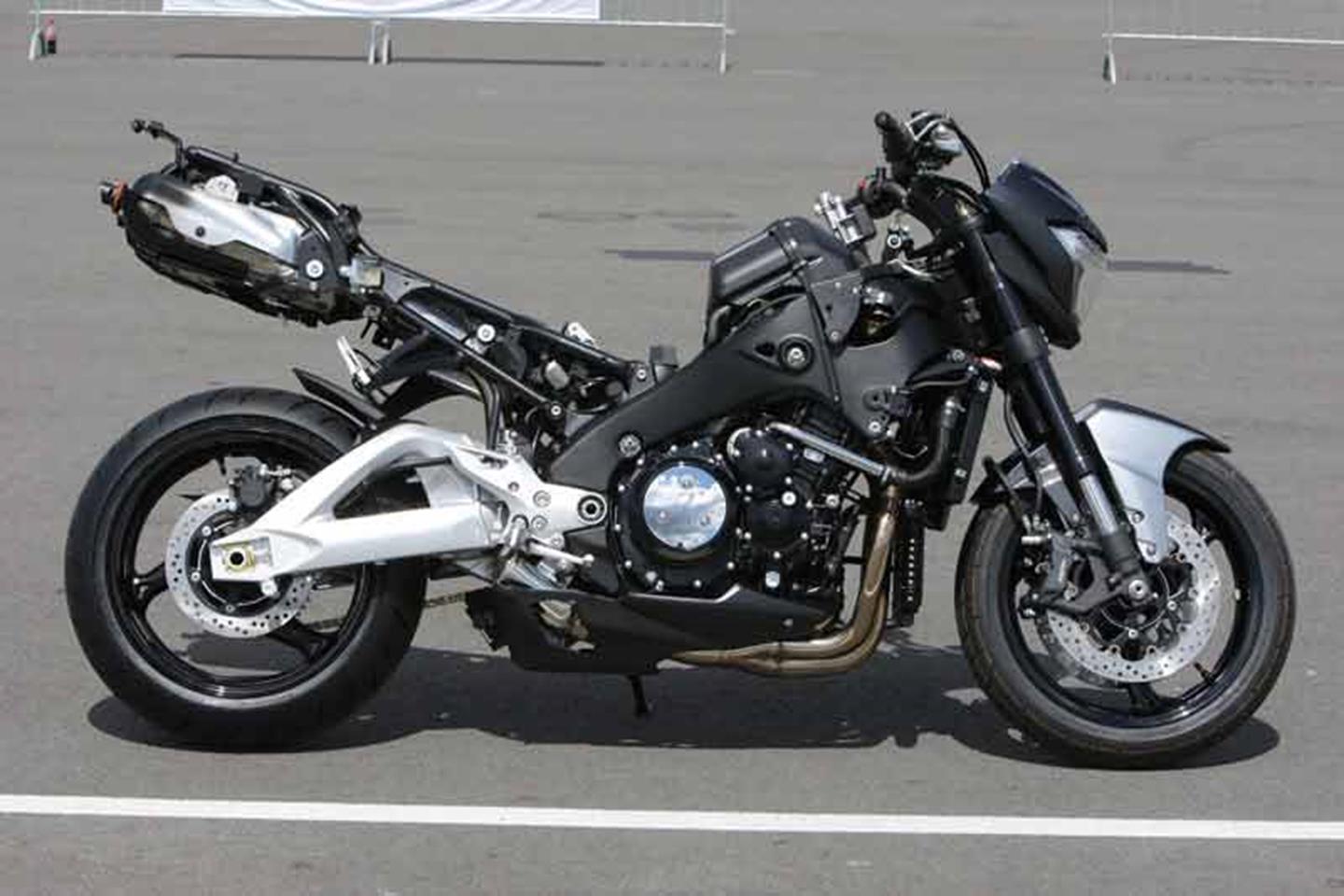 Reliability & build quality
Next up: Value
The old Suzuki Hayabusa was as reliable as the tide coming in, bullet proof and could take a heavy tune, so there's no reason to question the reliability of the Suzuki B-King.
That said, there's a very plastic feel about the bike and only time will tell if it stands up to a few harsh winters.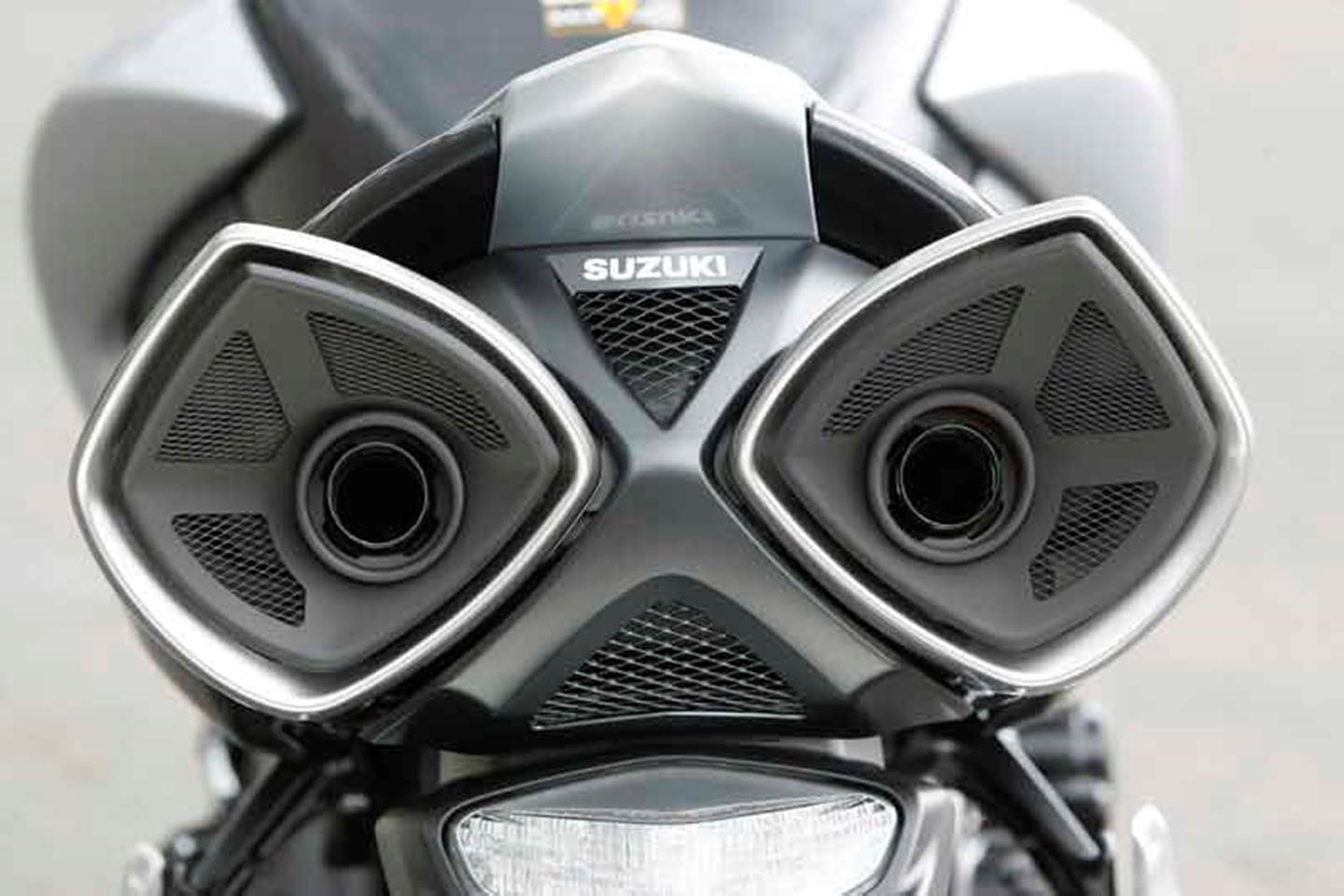 Our Suzuki B-King owners' reviews show very positive scores, with the only issue seemingly the thin paint that can suffer stonechips.
Value vs rivals
Next up: Equipment
For £9000 (new) you got a hell of a lot of a Suzuki B-King for your money. It's quick – make no mistake about that, and there's enough torque to pull up trees.
Running costs of the B-King will be high so don't expect tyres to last too long, anything over 3500 miles from a rear is going to be a real bonus.
These days there's no shortage of extremely powerful naked options on the market, but the closest match to the B-King is the supercharged Kawasaki Z H2.
A modern Suzuki Katana may not look like a good match at first glance, but it too is an inline-four powered naked based on an iconic Suzuki.
If you want something with mindblowing power and torque, the KTM 1290 Super Duke R would be a good bet. But the unhinged Austrian is far more aggressive than the B-King in every way.
Watch: Suzuki B-King video group test
Equipment
Like every new big Suzuki you get the mandatory power switch with the B-King. Selecting A gives you full power, B for limited power.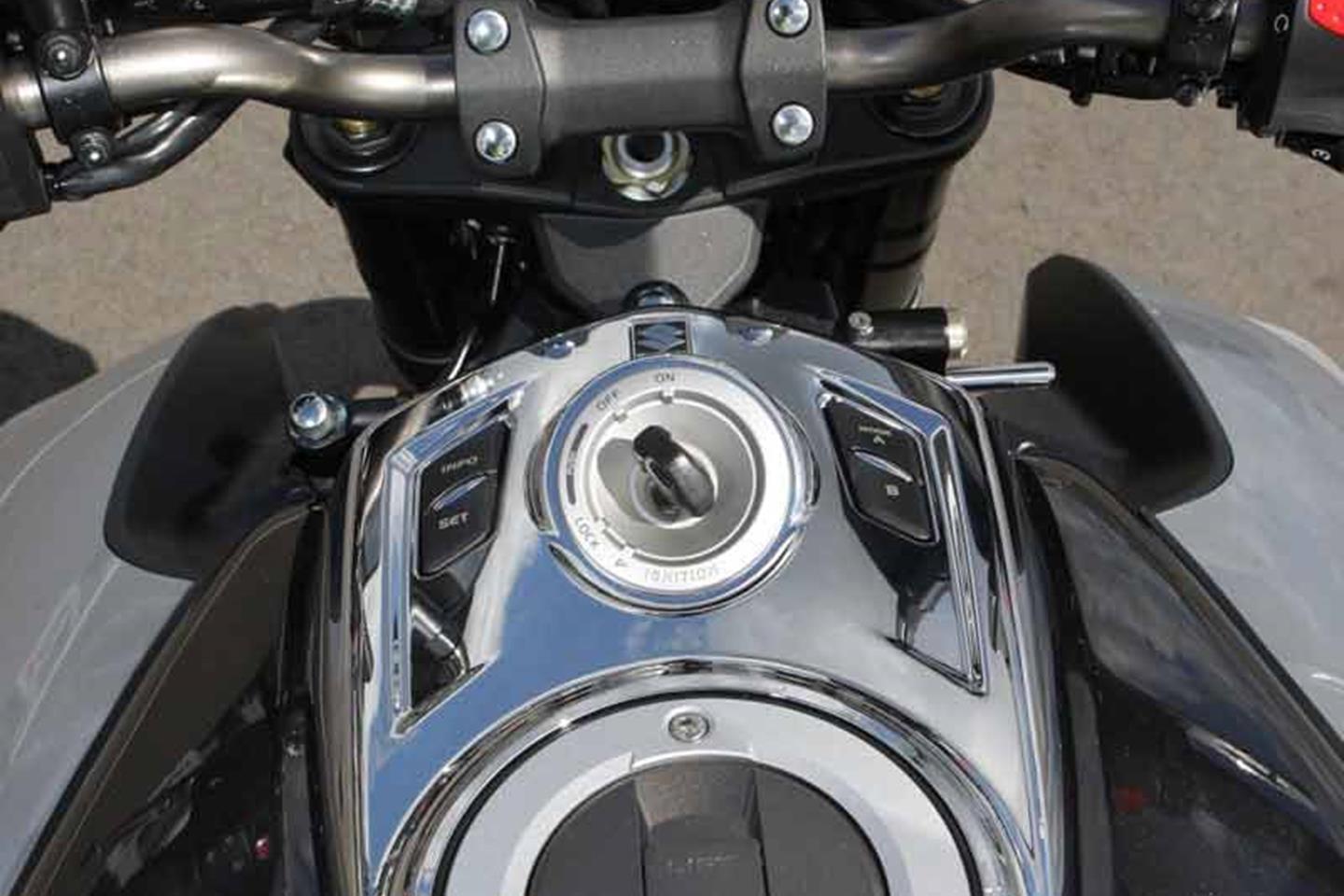 Personally I think it's a bit pointless but each to their own. The B-King also has fully adjustable suspension front and rear, which means you can twiddle to your heart's desire.
Specs

Engine size
1340cc
Engine type
16v in line four, 6 gears
Frame type
Aluminium twin spar
Fuel capacity
16.5 litres
Seat height
805mm
Bike weight
235kg
Front suspension
Fully adjustable
Rear suspension
Fully adjustable
Front brake
2 x 310mm radial four pot
Rear brake
260mm disc single piston
Front tyre size
120/70 x 17
Rear tyre size
200/50 x 17
Mpg, costs & insurance

Average fuel consumption
38 mpg
Annual road tax
£96
Annual service cost
£180
New price
-
Used price
£5,500 - £8,200
Insurance group
17 of 17
How much to insure?
Warranty term
Two year unlimited mileage
Top speed & performance

Max power
164 bhp
Max torque
94 ft-lb
Top speed
151 mph
1/4 mile acceleration
10.44 secs
Tank range
133 miles
Model history & versions
Model history
Suzuki first unveiled the B-King as a 200bhp supercharged concept in the early 2000s. The B in the name supposedly stood for brain, beauty and boost. By the time the B-King was fully unveiled, not much was left from the concept version. The B-King was discontinued in 2021.
Other versions
The B-King is a naked version of a Suzuki Hayabusa.
Owners' reviews

for the SUZUKI GSX1300 B-KING (2007 - 2012)
13 owners have reviewed their SUZUKI GSX1300 B-KING (2007 - 2012) and rated it in a number of areas. Read what they have to say and what they like and dislike about the bike below.
Review your SUZUKI GSX1300 B-KING (2007 - 2012)
Summary of owners' reviews

Overall rating:
Ride quality & brakes:
Engine:
Reliability & build quality:
Value vs rivals:
Equipment:
Annual servicing cost:
£180
BKing
27 August 2021
Year: 2007
Annual servicing cost: £250
Well documented engine performance is the main plus, huge torque make the bike easy to use in most situations providing you can cope with the sheer bulk
Ride quality & brakes
Always great fun to ride but would need a degree of planning to go long distance because of the fuel tank range (150miles). I only do relatively short recreational trips these days.
Engine
Endless power and torque....I love it!
Reliability & build quality
Never had any issues with the reliability...but then the power plant is well proven by now. General finish is holding up pretty well on the bodywork panels but the finish on the wheels is not so durable.
Value vs rivals
Generally cheap enough to service and all parts are readily available. Fuel consumption is as you would probably expect but feels worse because of the small fuel tank capacity.
Equipment
Favourite feature is always the engine. Yoshimura cans to get rid of the interesting standard look. I now use Bridgestone S22 tyres, never had a problem with the handling but these tyres make it feel absolutely planted.
Buying experience: Bought from a dealer for £5000 years ago. The price has started to creep up now as its getting harder to find a good one.
Everyday Bking awesome ness
10 October 2020
Year: 2009
High speed comfort can be a pain in the neck. Shame it didn't look more like the concept bike otherwise a great bike.
Ride quality & brakes
At its best on A road, motorway and duels. Can easily ride for a couple of hours or more depending on speed and wind direction. She is a great allrounder.
Engine
Nothing to dislike about the hayabusa engine... power mode B helps around town but isn't necessary.
Reliability & build quality
Very well built, no corrosion, used for track days, mainly Cadwell and fast road riding. Just once in has it run erratically when one of the original plugs started playing up... they were 10 yrs old.
Value vs rivals
Oil & filter definitely once a year, sometimes two depending on how many track days.
Equipment
Standard cans are horrendous. Descent screens are hard to come by. Good try choice is a must for either touring, or fast road and track use... best so far for me are Michelin power rs's . Oil and radiator guards.
My Dream Suzuki B King
28 April 2020
Version: bk8 1340
Year: 2009
Annual servicing cost: £150
awseome mad machine,absoluteley love it!
Ride quality & brakes
just handles great and the weight makes it stable at insane speeds also comfortable on long journeys
Engine
no better engine out there than a 1340 hayabusa 181 bhp std motor,bulletproof!!
Reliability & build quality
nice build quality and 1340cc engine is bullet proof
Value vs rivals
serviced myself but the tank and side pods make it a pain to get to plugs,airfilter
Equipment
love the simple clocks mixed with digital display,nice clean look,definateley needs a screen as my head hurts after 140!
Buying experience: I got a bargain from a bike dealer in manchester(was a cat c) 6750 miles 2009 £5500 with delkevic pipes that sound awseome after i took out the baffles!! It had been standing in the shop a bit so not running sweet but when i got it home i ripped the tre out,put ecu back to std,new pipercross filter,ngk irridium plugs,motul oil,filter and shes running sweet as a nut,very pleased,the bike is in mint condition.
The Perfect Bike
25 September 2019
Version: Transformer
Year: 2009
Annual servicing cost: £100
the awseome looks,the rapid acceleration and good handling,worst features std exhausts,junk them and she looks sexy as hell!
Ride quality & brakes
surprisingly good but i am going to put braided brake lines on and renthal bars
Engine
i,m nearly 51 but when i got on this it turns me into a young early 20's nutter again! ridiculouse grunt/acceleration!
Reliability & build quality
mine had a tre installed on it causing low rev spluttering problems so took it out and wired ecu back to std,will get ecu flashed in the future,best way to derestrict it!
Value vs rivals
similar costs to my other bikes,she's worth every penny for the ultimate grin factor bike
Equipment
i love the beefy look to the bike,its so sexy everywhere you look at it,i've put michelin pilot 2ct's on her with 190/55/17 and handles sweet around corners,avoid tre as it just buggers your engine,spark plugs and ecu up
Buying experience: bought her in manchester in 2019 7600k on the clock for 5500,bargain,even has the original tool box and tank stay!
Was glad I made the choice at the time
17 March 2016
Year: 2008
Annual servicing cost: £220
Had the B-King since new for 8 years, and only now are there bikes being brought out by the various manufacturers that I would even consider to replace it... that's been the problem, in the same category, once you've had a B-King, what do you have??
Ride quality & brakes
I've always thought it's more comfortable to ride than my old Bandit. If you can get over the initial feeling of sitting at your dining room table, I've found the B-King a very decent all round bike, altho coz of it's weight, it's obviously not the easiest for low speed manoeuvers. For the size of the bike, the front brake is surprisingly good, and back brake useful for stability into roundabouts.
Engine
Just sooooo smooth and the torque just pulls your arms off. Brings a grin to my face every time.
Reliability & build quality
The only real quibble seems to be those akin to most Suzuki owners... paint finish very susceptible to any stone chips as quite thin, and if you ride in winter, corrosion of various fixings will be an issue unless steps are taken.
Value vs rivals
For the performance of the bike, you can't moan at the servicing costs. Tyres can be expensive given the size of the rear wheel, and there are not much of a choice because of this to go for.
Equipment
Like the logo'd dash each time I turn the key. Lots of after market carbon available, but would def recommend the various R&G crash bungs and engine protectors just in case... Dunlop Qualifiers made for the bike are great, although not the most economical given the cost against mileage. Avon Storm 3D X-M's seem to be a good compromise.
Buying experience: This was the best thing ever about the 'bike. Was offered a pre-registered 'bike back in 2008 by Crescent in Verwood that was 4 months' old, but zero miles, and secured for £6995, which seen as list was nearly £9k at time, was unbelievable.
B-King Luck
28 June 2015
Year: 2008
Annual servicing cost: £200
Ride quality & brakes
Engine
With tandard exhausts this bike is tthe best looking on the road people will always stop and look at your B-King
Reliability & build quality
Value vs rivals
depending on mileage p.a
Equipment
Gearchange indicator , Original Standard Bridgestone tyres give plenty of grip and are a good tyre for this bike.
Buying experience: I purchased my B-King in February 2013 for £8500 although it was a late 2010 bike I wanted the best one possible and found it this B-King had been placed from new in a Motorcycle collection and only had 3 miles on the clock I found it by searching Suzuki GB dealer list and went through the dealers one by one and found this Suzuki dealer 200 miles away at the time of my phoning one guy was going to check it out at 6pm and 3 guys were oggling it in the showroom I placed a debit card deposit on it straight away
Suzuki GSX1300BK
03 July 2013
Suzuki b-king. Insane performance, insane styling. Seems like you either hate it or love it. Well i love it! Simply the best bike i've ever had. Still after several years of riding this thing i find my self staring at the bike when i come home after a Days riding. i can't help myself. I love the beefy transformers look of it, especally now when i have modified it with new exhaust and couple of other styling mods. when i first saw the bike at my Suzuki dealer i was offered to borrow it while they fixed my gsx1100r. It looked like a huge monster to me and i asked how much it weighed and got the suprising answer that it weighed less my 1100r. Still that didn't do all that much to stop me from wondering how in the hell a was going to maneuver that thing! (Checking the specs now and it seems like the b-king is actually heavier then the 1100r -94) Well anyway off i Went and all that weight and bulk just disapeared. Rode it for a week or so and it was the most fun i ever had on a bike! Eventually i got my old bike back and i didn't really like it anymore. It felt low on Power and the handling wasn't at all like the b-kings handling so i Went out and bought one soon after.
Ride quality & brakes
Engine
Reliability & build quality
Value vs rivals
Equipment
3 yrs on
11 March 2012
Mostly looks as good now as it did when I got it apart from the lacquer on the mirrors. Moved to a 190/55 rear for a laugh and its been great with Dunlop D211 gp's once the suspension was set to match. Engine when its working properly is insane but the bike had been plagued with spark plug failures...it hated being parked up and the iridium plugs just die without warning so now I remove them each winter and keep a spare set. Overall its a great bike that quite simply does most things beautifully and offers great comfort without looking like a sofa. Such a shame more people didn't take a liking to them...a few mates have them and can't get enough of them having all moved from 1000's. Small fuel tank is the main drawback but still good for 160miles at sensible pace. Headlight is naff so I avoid using the bike on backroads at night...tried all sorts of bulbs but the way the light projects is just poor. Dead easy to ride , even a learner mate was able to do his u-turns on it and had a laugh taking it around the local test centre circuit and an examiner said he would have passed him had it been for real. I love it and its a joy just to lift the cover off it.
Ride quality & brakes
Engine
Reliability & build quality
Value vs rivals
Equipment
Love it
24 May 2011
Awesome to ride everyday, surprised my mates when I let them have a go and once you've got ride of the awful standard exhaust it looks not half bad either. Go out there and try one
Ride quality & brakes
Engine
Reliability & build quality
Value vs rivals
Equipment
What A Bike
06 May 2011
Personally I think Suzuki deserve praise for productionising a concept bike. Irrespective of the looks the bike is an absloute cracker to ride.
Ride quality & brakes
Engine
Reliability & build quality
Value vs rivals
Equipment
BKING
28 February 2011
Went from a CB1300 to this beast. Love it. Big and comfortable with interesting looks, I ride everyday and think this is one of the most under rated machines on the market...Second hand buys are the best value for money. This always puts a grin on my face. Though it eats rubber, drinks fuel and insurance is cruel I may just keep this bike for another year.....
Ride quality & brakes
Engine
Reliability & build quality
Value vs rivals
Equipment
what a machine
18 March 2009
best bike i have ever owned, i love it's unusual looks!!
Ride quality & brakes
Engine
Reliability & build quality
Value vs rivals
Equipment
b-king monster
10 March 2008
what a machine! looks fab with scorpions fitted, a real head turner and its super fast!! I am very pleased with the B-King
Ride quality & brakes
Engine
Reliability & build quality
Value vs rivals
Equipment
Back to top