Auction prices hit record high: AJS Porcupine sees auction prices spike
Published: 16 July 2021
Updated: 16 July 2021
This AJS Porcupine fetched £293,250 at auction

1937 ex-police Brough outfit is a head-turner

This Brough Superior Supercharged Special recreation will go for big bucks
The Bonhams Summer Stafford Sale set new records as the auction paid its first visit to the show since the autumn of 2019 – with the ultra-rare 1940s AJS 497cc E90 'Porcupine' Grand Prix bike setting a new world record for the model when it sold for at £293,250. All-in, the three-day sale realised a total of £3,585,000 with 98% of lots changing hands.
The Porcupine was the top draw in a sale that featured a variety of period superbikes. A Brough Superior SS100 achieved £126,500, the second most valuable lot sold while an earlier 1914 Brough 497cc Model H, being offered the National Motorcycle Museum, cleared its top estimate making £103,500.
"It was a joy to return to Stafford for our first live auction in more than 18 months," said Ben Walker, International Department Director, Bonhams Collectors' Motorcycles. "The saleroom was buzzing with bidders – who nevertheless also had healthy competition from telephone, internet and app bidders."
The Porcupine was just one of a collection of nearly 90 race bikes and classics amassed by the late Ken Senior, an avid motorcycle collector and neighbour of AJS works rider Ken Frend, of which 99% sold.
Also sold was a 1973 Norton Commando 850 Roadster owned by the late Keith Emerson, founding member of 1970s prog-rock legends Emerson, Lake and Palmer, which reached its estimate and sold for a very respectable £12,650.
Entries are now being invited for the upcoming Bonhams Autumn Stafford Sale on the weekend of October 9-10, 2021.
---

Superbikes up for auction: Bonhams offering performance bikes of yesteryear
First published on 1 July 2021 by Jordan Gibbons
More than 330 bikes from virtually every era of motorcycling will line up at the three-day Bonhams Summer Stafford Sale, taking place from July 2-4. Leading the pack is a trio of Broughs, headed up by a Brough Superior SS100 1000cc Supercharged Special re-creation, which is the work of master craftsman and engineer Ewan Cameron.
The Brough specialist's aim was to recreate the machine ridden by Noel Pope to the 124.51mph outright record at the Brooklands circuit – a record that still stands some 80 years later. Incorporating many original parts, it is every bit the period recreation and is expected to fetch £120,000-£170,000.
Next up is a near-100-year-old superbike in the form of a 1931 OHV 680 'Black Alpine', offered by the National Motorcycle Museum. Known as the mini-SS1100, this machine was restored in the late 1970s and has been shown by the museum since.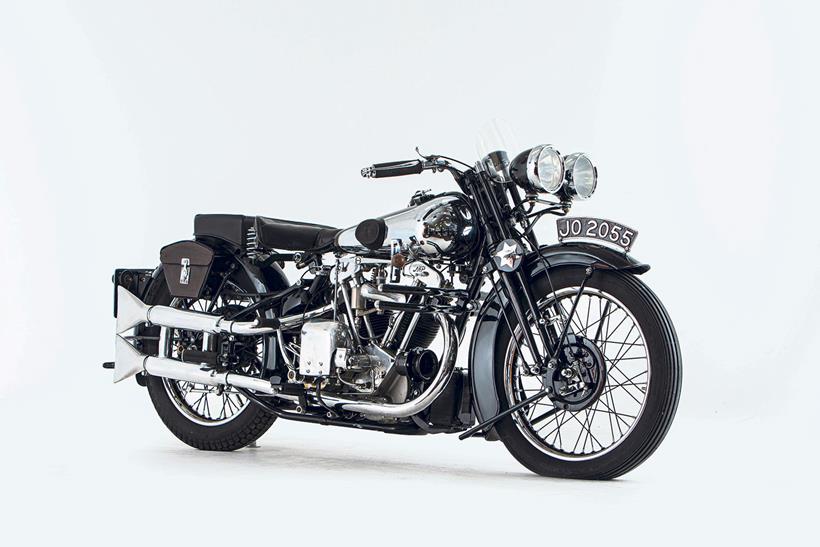 It's expected to make £120,000-£160,000. Last but not least comes a 1937 Brough Superior 1096cc 11-50 with Petrol-Tube Sidecar, which has an estimate of £55,000-£75,000. Proving that not all Broughs were destined for the track, this bike was delivered to Sheffield police force.
Despite its size it was still good for 75mph with the sidecar attached and was considered one of the finest of its time with a red leather interior to the outfit.
There are a lot more bikes on offer that aren't as pricy, including a 1973 Norton Commando 850 Roadster that belonged to the late Keith Emerson, of Emerson, Lake and Palmer fame.
The three-day sale returns to the live auction format but in accordance with coronavirus regs, all bidders must have a ticket for the International Classic MotorCycle Show, purchased in advance from www.classicbikeshows.com.
---
Bonhams Summer Sale sees hundreds of classics find new homes
First published on 17 August, 2020 by Jordan Gibbons
The rescheduled Bonhams Motorcycle Sale took place at Bicester Heritage centre over the weekend, with hundreds of bikes shooting well clear of their estimates to make it Bonham's best-ever two-wheeled sale.
The auction was originally scheduled to take place at the Spring Stafford show and attracted considerable interest as it featured over 500 lots, including 200 bikes from the late Giancarlo Morbidelli's motorcycle museum. Of the 526 lots put up, 95% sold - generating over £3.67 million. Here are some of our favourites.
Related articles on MCN
Right in at the top, our personal highlight was a little bit of British racing history in the form of Percy Tait's Texaco Heron Suzuki 750cc XR11, as ridden to victories at the North West and the TT. Offered in totally original condition, it sold for £51,750.
Coming in a close second was a 1974 MV Agusta 750S – MV's development of the 4C, their first road going four cylinder. Unlike the 4C, which was a 600, the 750S made 65bhp and was designed to be a sportsbike.
Entirely hand built and astronomically expensive, very few 750S were ever made, which is why this one owner bike went for an impressive £66,700.
There were some niche sales including a 1963 Honda 250cc CR72 racebike – the height of when Honda were ploughing ahead with four strokes. That went for £89,700, while a spare engine made just over £17,500.
Other big money bikes including an World Champsionship and TT winning 250cc Benelli which went for £138,000 - a record breaking figure, only for it to be broken minutes later by a Spanish GP winning 250cc Benelli. That sold for £149,500.
On the day though it wasn't to be for what was arguably the star of the show: a 1965 Ducati 125cc four-cylinder GP bike. Designed by Fabio Taglioni, the machine was built to challenge the dominance of MV Agusta but it was so complex and took so long to make, it never hit the race track.
Expected to reach between £400,000 – 600,000 the bidding stalled at £330,000 and didn't clear the reserve. Still, a win on the lottery and we're sure they'll accept an offer…
---

Amazing bikes under the hammer: Bonhams Summer Sale features everything from classic GP bikes to budget projects
First published on 31 July, 2020 by Jordan Gibbons
The Bonhams Summer Sale is nearly upon us and with a bumper auction full of exciting lots, there's something to suit every budget. Right at the very top of the tree, is a unique Ducati that's come to auction as part of the Morbidelli Museum collection.
The 1965 125cc four-cylinder GP bike is famous because it was so complex and took so long to make, and was obsolete before it even hit the track.
Related articles on MCN
Designed by Fabio Taglioni, whose desmodromic valve action remains on Ducatis to this day, the 125cc four was meant to challenge the dominance of MV Agusta and the emerging threat from Japanese manufacturers.
The bike was originally designed in 1958 but after Ducati withdrew from racing due to financial pressure, it wasn't resurrected until their return in 1964. Unfortunately for Ducati, less then 12 months later Honda unveiled their five-cylinder 125 and condemned Ducati's four-potter to the history books in the process. As you might imagine of a bike with such history, there's a price tag to match with estimates between £400,000 – £600,000.
If that's a bit rich, then aim a little lower by a factor of 10, you might fancy yourself a little bit of British racing history. Also in the sale is an ex-Texaco Heron Suzuki 750cc XR11 as ridden to victories by Percy Tait at the North West and John Williams at the TT.
Offered in original and unmolested condition, albeit needing restoration if it's to take to the track again, the estimate is a much more reasonable £42,000 - £48,000. However, if you're anything like us, that's probably still a lot more than you've squirreled away in lockdown.
Perhaps then, you might fancy this Triton, built from a Norton Featherbed frame and a 1956 650cc Triumph Thunderbird motor. Last on the road over 25 years ago, it's not had much love of late but everything is there for a decent restoration. Estimate is £2000 – £4000 although it's offered with no reserve, so you could pinch yourself a bargain.
For more info on all the lots, or to register for the auction, head to the Bonhams website.