Incoming Triumph Tiger Sport 660 set to ignite middleweight title fight
Published: 05 October 2021
Updated: 05 October 2021
Triumph Tiger Sport 660 on the road

Triumph Tiger Sport 660 dash

A side view of the Triumph Tiger Sport 660 with luggage

Triumph Tiger Sport 660 pillion seat
Triumph have unveiled a feisty-yet-refined Tiger Sport 660 in a bid to rule the lucrative middleweight adventure-sports sector.
At the heart of the new model is the 660cc triple from the firm's popular Trident model that went on sale earlier this year. Part of the Trident's appeal is accessibility – it's small, light, narrow and great value – and this ethos is carried over to the new Tiger Sport derivative.
Related articles on MCN
The new bike sees the British firm entering a new and busy market sector. As a road-biased model with 17in wheels, an upright riding position and a middleweight engine, it will have to fight off stiff competition from the likes of the Yamaha Tracer 7, Kawasaki Versys 650, Suzuki V-Strom 650 and Honda NC750X – although the new Tiger Sport carries a more premium badge and has more cylinders than the others.
With an 835mm seat height and 206kg wet weight, the baby Tiger should not be too intimidating for less experienced riders, while the punchy 80bhp triple with 47lb.ft of torque will keep more seasoned bikers interested, too.
Big-mile practicality
The Tiger Sport is essentially a Trident for those who want to travel a bit further. You get an extra three litres of fuel per tank to extend the gap between fill-ups, as well as improved weather protection (the Trident doesn't have any) from a new half-fairing and screen.
Running gear is essentially the same, so you get twin Nissin brakes, 41mm Showa forks and a shock with hydraulic preload adjustment. If you really want to go globetrotting, a set of hard panniers and a topbox are in the official extras catalogue.
Tucked behind the screen is a new TFT dash layout with a section at the top displaying revs, speed and fuel level and a colour section below with a clock and gear indicator.
You can add the optional My Triumph connectivity system, too, which unlocks turn-by-turn navigation and phone/GoPro control. The Tiger Sport also gets two riding modes – Road and Rain – along with switchable traction control, ABS and LED lighting all round including self-cancelling indicators.
Like the Tiger 850 Sport, the 660 can be restricted (to 47bhp) for A2 licence holders. Triumph have made it clear that the Tiger Sport 850 will also still remain in the range.
Priced to compete
Triumph are targeting bikes like Yamaha's Tracer 7 and Kawasaki's Versys 650 and that means the new Tiger Sport needs to be keenly priced.
Happily, it is. Prices will start at £8450 for a blue one (it's a couple of hundred quid more in red) which is £250 more than a base Tracer 7, but the Yamaha doesn't have riding modes or traction control, and is down on power, too; so on paper at least the Trumpet looks to be very good value.
The Tiger Sport 660 will be available in dealers from February and you can see it at this year's Motorcycle Live show.
Triumph Tiger Sport 660 in detail:
Going the distance The Tiger Sport gets a bigger 17-litre tank (the Trident's is 14 litres), which should give a decent 200-mile tank range.
Get it how you want it There are more than 40 dedicated Tiger Sport 660 accessories, including a full range of touring luggage.
Protection bracket Triumph say the generous height-adjustable screen can be adjusted with one hand while riding.
In the mode The Tiger Sport 660 gets two riding modes: Road and Ride as well as traction control
Triumph Tiger Sport 660 highlights:
Price £8450
Engine 660cc triple
Weight 206kg (kerb)
Power 80bhp
Torque 47lb.ft
---
Triumph Tiger Sport 660 unveiled: Trident engine used to take on Tracer 7
First published on 24 August 2021 by Jordan Gibbons
In a surprise announcement, Triumph have unveiled their Tiger Sport 660 – a brand-new sports-tourer based on the popular Trident 660 platform.
Just as the Triumph Trident was built to take on the dominance of Yamaha's MT-07 in the middleweight naked category, so the Tiger Sport 660 is poised to take on the Tracer 7 for the middleweight sports-tourer crown.
Related articles on MCN
So far Triumph have remained tight-lipped about the new machine but just casting an eye over the barely-disguised prototype reveals an awful lot.
For starters the engine appears visually identical, so we'd expect near identical performance of 80bhp @ 10,250rpm. It's possible Triumph will have given the innards a little tweak for a retune but it's just as likely they'll have left it well alone – if it ain't broke etc.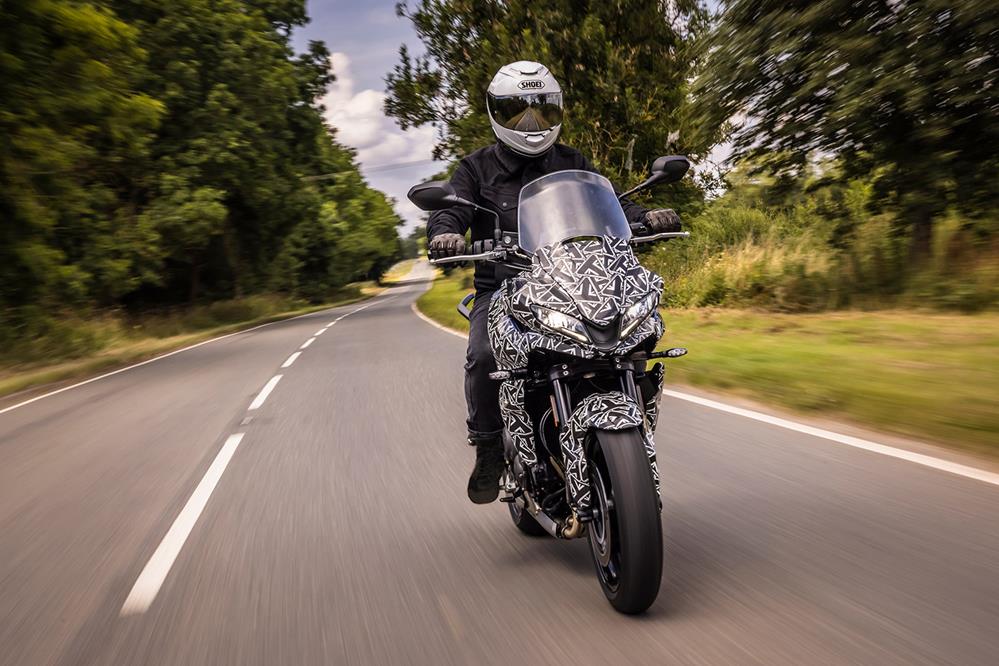 Either way we'd expect it to have the gearing changed it give it slightly longer legs in the top ratios. As the engine is the same, so too is the frame, which is no real surprise as Triumph will have designed both of these models (and possibly others) at the same time.
The subframe appears similar but it's likely been beefed up and lengthened a little to cope better with passengers and luggage.
The biggest change over the Trident is the addition of a fairing and tall screen. The fairing integrates nicely with the existing radiator shrouds and clearly channels the Daytona with the headlights framing a central air-intake.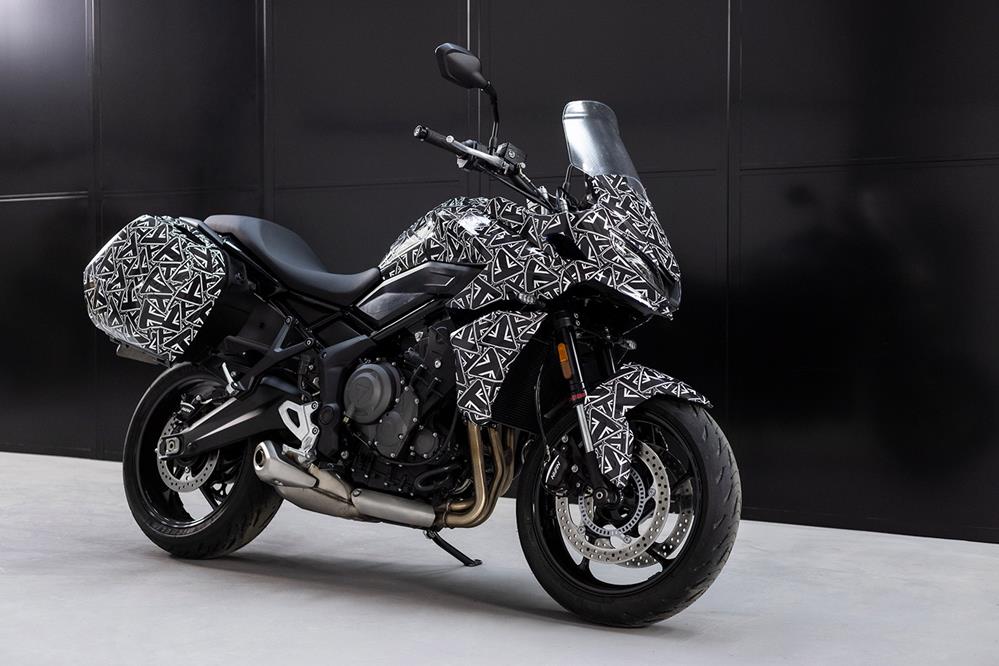 With a shorter screen it could easily be compared to an Aprilia Tuono 660, which is no bad thing. To match the new fairing is a new tank, which has likely swelled from the Trident's 14 litres.
The suspension looks to be very similar to what's fitted to the Trident, although it appears to be slightly longer travel front and rear with a slimmed-down seat profile to keep the seat height sensible.
What's really nice to see are the posh touches that show Triumph have put some care into the bike, including right-angle tyre valves and blanking covers in the swingarm bobbin threads as well as sticking with Michelin Road 5 tyres.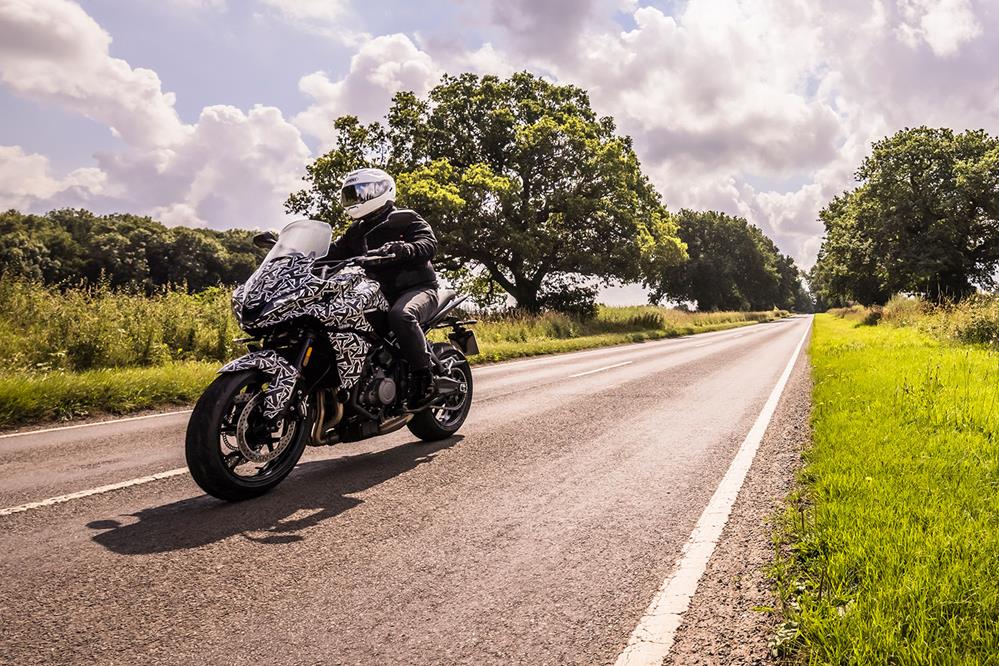 We're also expecting the Tiger Sport 660 to bring across all the electronics of the Trident including ride-by-wire throttle, riding modes, traction control, ABS and optional smartphone connectivity.
The big question that remains is the price. The Trident currently costs £7395 OTR, which is a hair under £500 more than an MT-07. We think Triumph will want to keep a similar gap to the Tracer, which costs £8202 OTR. That means we'd expect the Tiger Sport 660 to come in around £8795, which also gives it a bit of distance to the Tracer 7GT and their own Tiger 850 Sport.
So far Triumph have remained coy about when the new machine will be released but we'd expect to see the finished machine within the next few months.