A Peak-y blinder: Ducati Multistrada V4 Pikes Peak ridden ahead of 2022 release
Published: 27 September 2021
Updated: 27 September 2021
Ducati Multistrada V4 Pikes Peak pre-production test

Ducati Multistrada V4 Pikes Peak on track

Ducati Multistrada V4 Pikes Peak left side

Ducati Multistrada V$ Pikes Peak spyshot
The new Ducati Pikes Peak V4 will be the most powerful and sports-focused Multistrada seen so far when it goes on sale next year.
Related articles on MCN
Although Ducati are refusing to confirm the final specification of the new Multi, an exclusive test ride on a prototype test mule at the Modena circuit in northern Italy confirmed a move to 17in wheels and semi-active Öhlins suspension.
A tweaked version of the stunning Granturismo V4 powerplant is expected to make a fraction more power than the current Multistrada V4's 168bhp.
Ducati have opted for shorter-stroke semi-active Öhlins suspension instead of the Skyhook Marzocchi items found on the 2021 Multistrada V4S and V4 Sport. The set-up appears similar to the Öhlins Smart EC 2.0 system seen on the Ducati Panigale V4S.
The new bike retains three of the standard Multistrada's riding modes (Sport, Touring and Urban), with Enduro mode replaced by a track-focused Race mode. There's also a refreshed raft of rider aids, including lean-sensitive traction control and ABS, plus wheelie control and an up-and-down quickshifter.
While there is no information yet about the new bike's weight and chassis dimensions, the seat height certainly seems lower than standard.
On track the Pikes Peak is in a different league to the conventional Multi V4. Fitted with Pirelli SC1 slicks for our test, it was incredibly stable under heavy braking and made light work of even the slowest turns.
Taut and accurate, it also changed direction rapidly on its 17in wheels and, on board, it was clear that Ducati have reduced unsprung weight and possibly the bike's overall weight, too. It really is staggeringly easy to fling the Pikes Peak from one side to the other.
In Sports mode it's quick but not aggressive, and even in the sharper Race mode is still manageable and fun to ride hard. It's a strange sensation riding a Multistrada to the limit on a track – and there's no disguising that this is a large motorcycle.
But when it goes on sale next year, it will be capable of running wild in a trackday fast group and, given that it's a Multistrada, deliver a superb ride home afterwards.
---

Spyshots: Road and track focused Ducati Multistrada V4 on the way
First published 26 May 2021 by Jordan Gibbons
Spyshots have emerged that show Ducati are testing a new version of the V4 Multistrada, which should be an even better performer on the black stuff. Rumours have been floating around of a high-performance version ever since the latest V4 Multi was released.
Related articles on MCN
The previous 1260 had a top of the range 'Pikes Peak' edition, however since the race no longer runs and super-naked duties have gone to the Streetfighter V4, it was assumed the machine had been consigned to the history books. Now these shots show that Ducati appear to be working on a new replacement.
The biggest change between this model and the standard V4 Multistrada is the 17in front wheel and single-sided swingarm. When the Multistrada was first launched as an upright sports tourer, a 17in front wheel was the natural choice if you were to fit sporty tyres.
However, as the quality of 19in fronts has improved and people have been drawn towards more adventurous riding, Ducati fitted a 19in front to the V4 Multistrada as a best-of-both-worlds solution. This disappointed hardcore fans and those who used their Multi as a sports-tourer rather than an off-road adventure bike.
At the same time, the single-sided swingarm was also ditched and despite the double-sided unit arguably being better, the single-sided arm is a Ducati trademark and some owners missed it.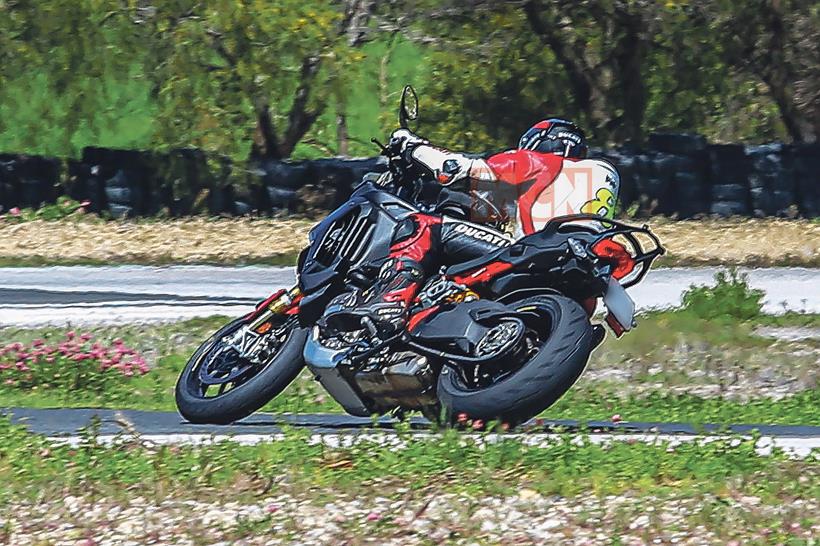 It's also clear from these photographs that Ducati have stuck with the performance focused ethos of the Pikes Peak edition. The electronic Skyhook suspension is gone in favour of fully adjustable Öhlins to appeal to riders who never want to go off road while a set of Brembo Stylemas appear to be biting a set of 330mm discs – both from the Streetfighter V4.
Also interesting is that Ducati obviously see the BMW S1000XR as the competition, as they're seen testing back-to-back against it on track.
The BMW does have the option for electronic suspension, so whether Ducati will buckle and offer this as an option for the 17in-wheeled version remains to be seen.
There's been no word from Ducati about this new model but we imagine they will look to unveil it later in 2021 for a 2022 launch. The Pikes Peak was always top of the range, so expect this V4 version to be the best part of £21,000 in standard trim, with plenty of accessories on offer to tempt you, too.