Voxan Wattman update: More speed for Biaggi's record bid
Published: 26 November 2021
Updated: 26 November 2021
Voxan Wattman II

Voxan Wattman II in partially streamlined form

Voxan Wattman II in naked form

Max Biaggi on the Voxan Wattman without bodywork

Max Biaggi with Voxan team

The Voxan team are aiming for more electric speed records

Tucked in on the Voxan Wattman

Max Biaggi and the team are preparing for more records
Voxan have revealed an improved version of the Wattman – a high electric speed weapon on which ex-GP star Max Biaggi hopes to smash even more records.
The latest version of the French operation's streamlined electric speed contender will be making a string of record attempts in 2022.
Related articles on MCN
Sporting the former GP and World Superbike champion's race number, the latest version is lighter and more powerful than the original Wattman which cracked 11 world speed records at Chateroux, France last year.
New batteries have brought the weight to under 300kg, allowing it to compete in more categories, while an updated version of the Mercedes EQ Formula E electric powertrain has raised power from 270kW/362bhp to 320kW/429bhp.
In addition, the wheelbase is longer than before, the seat higher and it can now be configured with different bodywork to allow it to compete in 'Partially streamlined' and 'Naked' categories.
Testing is currently underway at the Kennedy Space Center in Florida before further record attempts take place early next year.
Previously known for stylish V-twins, the Voxan brand was bought by Venturi in 2010 and immediately repositioned as an electric specialist with the first Wattman streamliner debuting in 2019.
---

Voxan and Biaggi set sights on more electric speed records
First published on 1 July 2021 by Andy Calton
Former GP and WSB star Max Biaggi is preparing to take the electric bike speed record to a whole new level with his Voxan Wattman.
After setting no fewer than 11 new records in November 2020, the Voxan Wattman is currently being readied for some new standard setting towards the end of summer.
Related articles on MCN
The Voxan Wattman was initially designed for world record attempts on the planet's biggest salt flat, Salar de Uyuni in Bolivia. However, restrictions imposed in response to the Covid-19 crisis meant that journey was - and still is - impossible.
In preparation for this latest attempt, at the runway of Châteauroux airfield in France, and to optimise the Wattman for this type of surface, the engine and transmission have been tweaked with the usual expert collaboration of Michelin, partner and official tyre supplier. The Voxan Wattman should weigh in at under 300 kilograms, enabling it to compete in that weight category.
In November 2020, the Voxan hit 253.5mph. In order to beat that record, the engineering team at Venturi/Voxan have also worked on the motorcycle's air penetration and stability. While simulations in the wind tunnel play a crucial role, the R&D department has also enlisted the help of specialists in fluid dynamics simulation, to take account of the incredibly high speeds targeted.
Biaggi said: "Attempting to set new speed records barely a year after posting the very first is exhilarating! Eleven is great but... it's not enough! I want to keep on and on developing electric mobility."
---
Voxan Wattman: Biaggi blasts to 11 electric bike speed records
First published on 05 November, 2020 by Andy Calton
Ex-MotoGP and WSB superstar Max Biaggi has smashed 11 world records on an electric motorcycle with a best top speed of over 250mph.
Biaggi, 49, steered the Voxan Wattman to success at the 2.17-mile Chateauroux airfield in France. While the outright top speed was captured at 254mph, the record now stands at 228mph as the average is taken from two runs in each direction. That obliterated the existing record of 204mph.
Related articles on MCN
The team also used an unfaired version of the 270kW speed machine to set new records in the non-streamlined category. The new top speed standard set by Biaggi and his team in this sector now stands at 217mph.
Biaggi said: "The team was driven by an incredible belief and determination. These records make me a happy man! I'm proud of the team and delighted to bring these titles back to Voxan."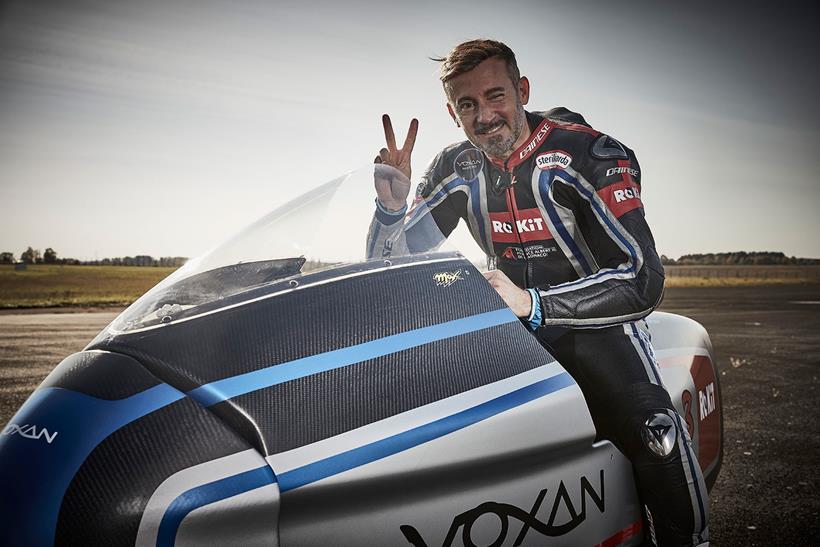 Voxan was bought by Venturi in 2010 and President Gildo Pastor immediately refocused the motorcycle manufacturer on electric engines.
He said: "It was important to me to celebrate the 20th anniversary of the Venturi Group's electric adventure. It hasn't been easy, but thanks to the hard work and mentality shown by Max and the team, we proved ourselves up to the challenge. Venturi can now claim to have created the fastest ever electric vehicles on two and four wheels."
He also broke the following records: Quarter-mile flying start, partially streamlined (245.10mph); quarter-mile flying start, non-streamlined (221.95mph); 1km flying start, partially streamlined (240.07mph); quarter-mile standing start, non-streamlined (78.42mph; quarter-mile standing start, partially streamlined (79.10 mph); 1km standing start, non-streamlined (115.30mph); 1km standing start, partially streamlined (119.20 mph); 1 mile standing start, non-streamlined (138.45mph); 1 mile, standing start, partially streamlined (139.81mph).
---

Voxan Wattman: Max Biaggi to pilot electric streamliner powered by race car engine
First published on 23 July, 2020 by Jordan Gibbons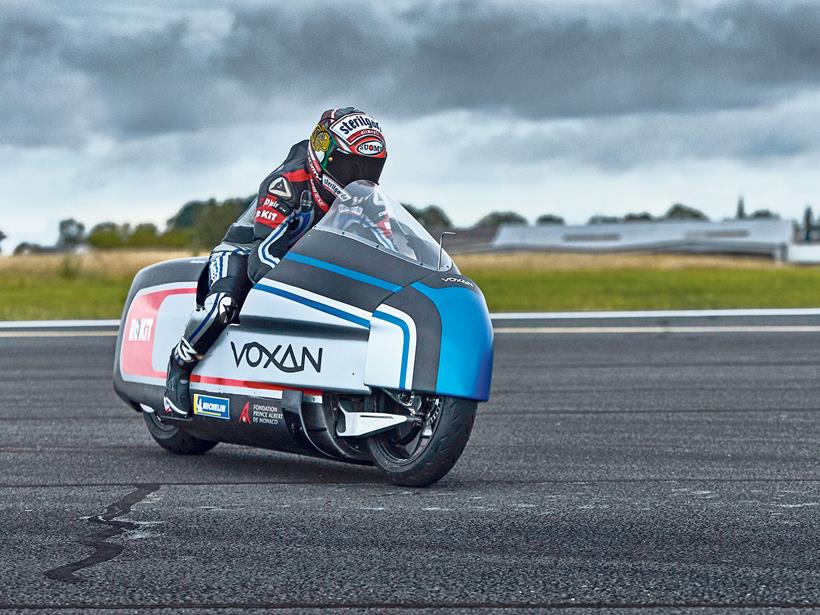 Voxan have revealed their Wattman streamliner, which will be piloted by ex-MotoGP and WSB racer Max Biaggi in an attempt to set a new electric bike world speed record.
If you're not familiar with Voxan, they're a niche French motorcycle manufacturer who were acquired by Venturi, an Italian electric vehicle specialist. In 2013 they released the Wattman electric bike before setting their sights on the electric speed record in 2018 with a streamliner version of the machine.
Related articles on MCN
The existing record sits at 327kph (203.56mph) but with Biaggi at the controls Voxan think they can crack 330kph (205.05mph) when they head to the Bolivian salt flats next year.
"I've always loved a challenge," says Biaggi. "I'm proud that I will be taking this new step in my career under the colours of Voxan and Venturi. The engineers and designers from the R&D department are driven by an extremely strong sense of determination. Breaking through the 330km/h mark will provide even more evidence of the group's expertise."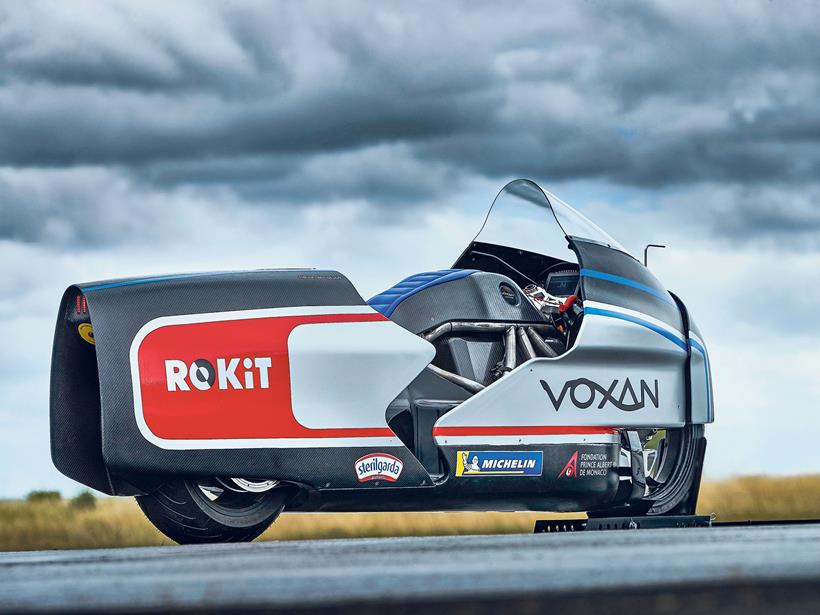 The key to this is going to be the innovative bike Voxan have created. The shell is made from carbon fibre, and has been honed using wind tunnel tests at 240kph. The shell sits on a steel trellis frame, which is suspended by double wishbone at either end with a steering linkage. This allows Voxan more room for the rider, while helping to retain decent handling – well as good as you can get on a bike with an 1850mm wheelbase.
To power the bike, Voxan have looked to parent company Venturi, using one of their motors from a Formula E racecar, which produces more than 350bhp and a mind-bending 715ftlb of torque.
Feeding this beast is a proprietary battery system made up of 1470 individual cells (accounting for more than half the weight of the machine at 140kg), which are capable of providing 317kW of power. As if that wasn't clever enough, the designers have dispensed with a conventional radiator for cooling, instead pumping the coolant through a container full of dry ice located in the seat hump.
---

Max Biaggi gets measured up for electric speed record attempt
First published on June 26, 2019 by Dan Sutherland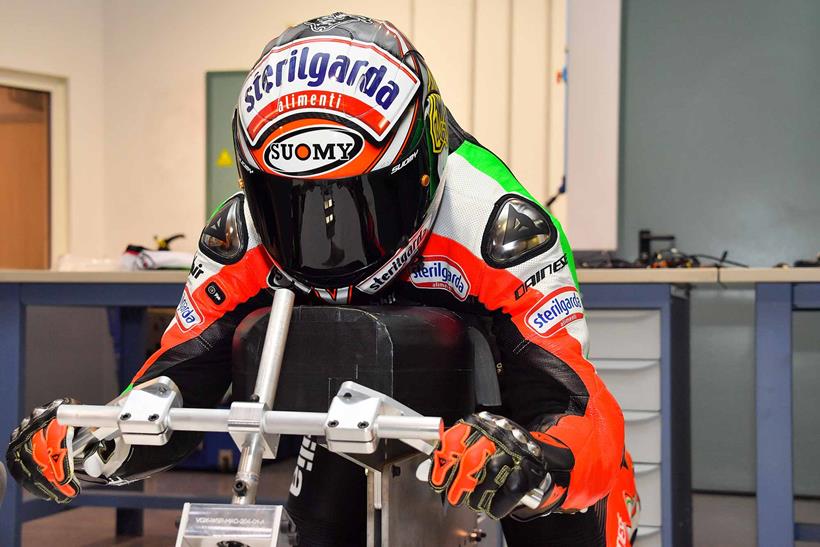 Six-time motorcycle world champion, Max Biaggi, has teamed up with Monaco-based electric bike firm, Voxan Motors, to try and set a new two-wheeled land speed record.
Announced in April by Voxan's owners; Venturi, the team will attempt to break the current record in August 2020 on the Uyuni salt flats in Bolivia. Riding the firm's Voxan Wattman land speed record machine, the team are aiming for a speed of 330kmh (205.1mph).
Since the initial announcement, Biaggi headed to Venturi's headquarters in Monaco earlier this month in order to test out the bike's ergonomics, as well as take his measurements and a number of 3D scans.
Venturi are no newcomers to electric motorsport, having already competed in Formula-E, set four-wheeled land speed records and claimed the longest distance covered by an electric vehicle without assistance back in 2010, at 14,900 kilometres.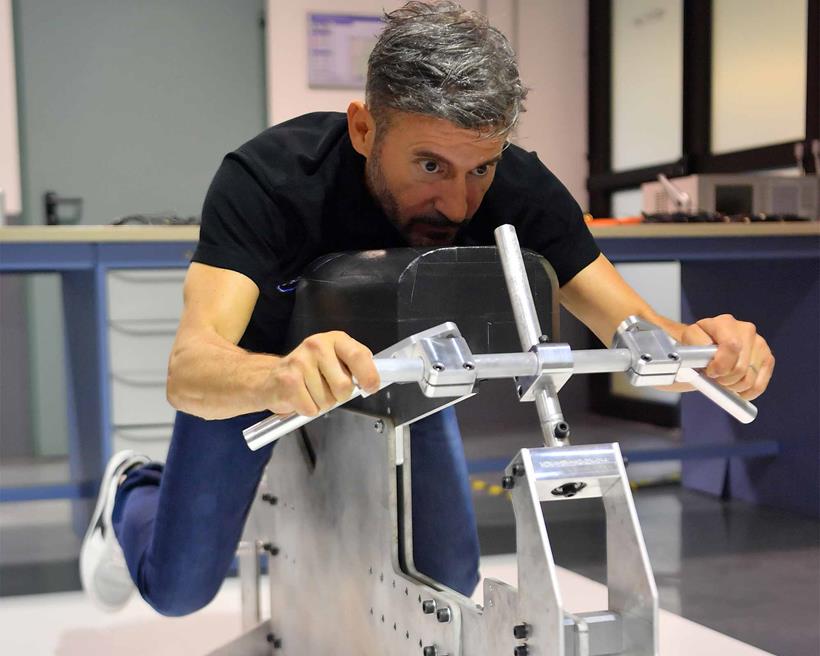 Working in tandem with the bike's designer, Sacha Lakic, this integral part of the design process allows engineers to create the most appropriate set up for Biaggi, whilst remaining compliant with FIM regulations.
The record the team are attempting to beat is for 'electric motorcycles propelled by the action of one wheel in contact with the ground, partially streamlined, under 300kg.' This is currently held by Jim Hoogerhyde on a Lightning SB220 at a speed of 327.608kmh (203.6mph).
Speaking about the challenge, Biaggi said: "A lot was learned during this first work session with the Venturi-Voxan team, especially when we were adjusting positioning on the model.
"It's nothing like the typical racing posture. I literally have to become one with the bike, lying down on it close to the ground. I had to learn to get used to it and work within the technical constraints that we have.
"I feel surrounded by an incredibly motivated Venturi-Voxan team. This is certainly going to be an unprecedented experience and I truly hope to earn Venturi another record."
Alongside winning four consecutive 250cc grand prix titles between 1994 and 1997, as well as two World Superbike crowns, Biaggi also set a world speed record of 164.198kmh with a Fazi Egraf, in the same category, back in 1994.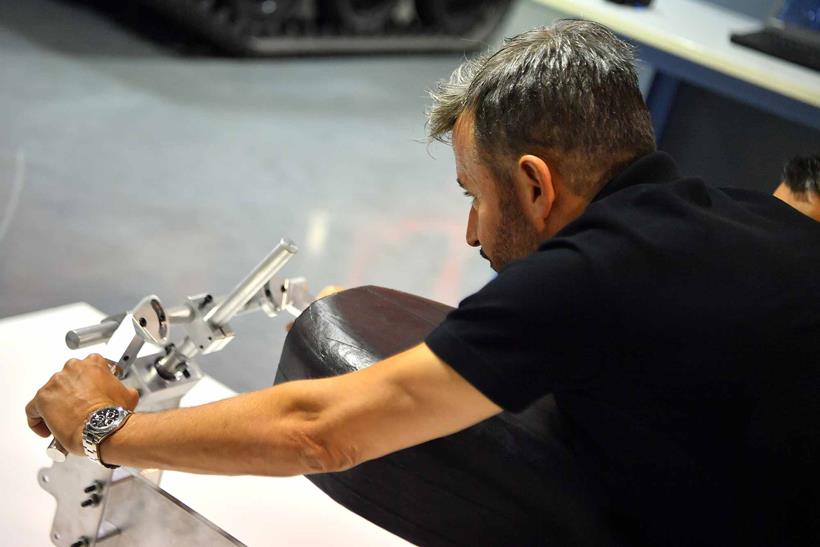 "I'm pleased to see the project progressing so well and so fast," Venturi Group President, Gildo Pastor, said. "I have full confidence in my team of engineers as they tackle the challenge I set them.
"They're used to developing innovative vehicles and are leveraging the experience they gained designing powertrains for our Formula E race cars. I'm proud of their hard work and dedication and I know that they are just as committed as I am to making this project happen.
"Roll on 2020, when I hope to watch my friend Max Biaggi beat the world land speed record on the Voxan Wattman. We're dreaming big for 2020, which also happens to be Venturi's 20th anniversary as a specialised producer of high-performance electric vehicles."