Disabled motorcyclist Claire Lomas MBE ready to ride again
Published: 12 October 2021
Updated: 12 October 2021
Claire Lomas MBE is preparing to ride at the Manx GP in 2022

Claire Lomas prepares for the London Marathon
Disabled motorcyclist Claire Lomas MBE raised over £10,000 by completing the London Marathon in a wheelchair, while wearing full bike gear.
Now she has her sights set on riding a lap of the TT circuit as part of the Manx GP in August 2022.
Claire said: "We were on the brink of getting this done a while back but then Covid hit and it couldn't go ahead. I'd love to get this sorted and hope the organisers of the Manx will let me do a lap for charity."
Related articles on MCN
---
Paralysed Claire Lomas completes London Marathon in full bike kit
First published on 05 October 2021 by Andy Calton
Paralysed motorcyclist, Claire Lomas MBE, battled to the finish of the London Marathon in her wheelchair on Sunday – in full bike kit!
Claire was paralysed from the chest down after a horse riding accident in 2007. Now married with two children, she discovered a love of motorcycling, and this inspired her to take on her latest feat, raising money for disabled children (Whizz-Kidz) along the way.
She's raised over £750,000 for various charities and has already smashed her £10k target this time round.
Related articles on MCN
She completed the London Marathon in 2012 using a special robotic walking suit but did not receive an official finisher's medal as it took her 17 days. She said: "It was great to get a medal this time and the spectators were amazing."
Pushing in bike kit had its challenges, but Claire beat her eight-hour target by almost an hour and-a-half.
"We'd have been close to six hours if my husband had not got cramp. He was dressed as my grid girl and the two-inch heels didn't help!"
Donations can still be made at Virgin Money Giving or by texting CLAIRELM £5 to 70085. Shoei, who supplied Claire's helmet, are also auctioning off BSB star Glenn Irwin's lid for the charity.
---
Paralysed Claire Lomas to do 26.2 miles in wheelchair... in full bike gear
First published on 27 January 2020 by Jordan Gibbons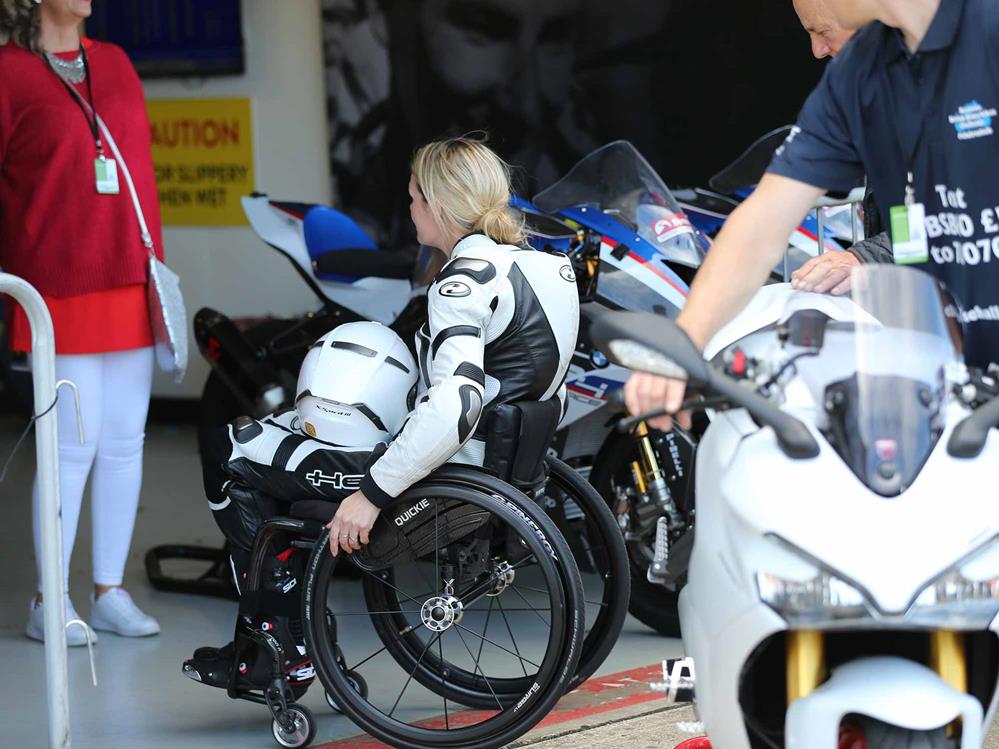 Claire Lomas MBE is planning to complete this year's London Marathon in her wheelchair while wearing full riding gear – including leathers and helmet.
Claire was paralysed from the chest down in 2007 after a horse riding accident. Since then she has married, had two children and started motorcycling.
In 2019 Claire, 39, rode a lap at every BSB round on her modified Ducati SuperSport and has done many trackdays as well as holding a UK race licence. She has also raised over £750,000 for spinal injury research charities.
Her latest project is to do the marathon (April 26) in motorcycling clobber, although it's not the first time she's done the event. In 2012 she completed the 26.2 miles in a robotic suit in 17 days. She did it again in 2018, smashing her time by nine days!
Now she's hoping to finish in seven hours. She said: "I started training just before Christmas and it's very hard in full motorcycle kit.
"The leathers are very restrictive and I'm a bit worried about how hot I'll get. I get quite hot now and it's only January!
"Also, because of my spinal cord injury, my body struggles to regulate its temperature so this could be quite a major issue on the day."
Claire is keen to beat the cut-off time of seven hours when the roads are re-opened. "It's very lonely when the crowds disappear and it's also hard when you have to battle with pedestrians and traffic, so it would be amazing to finish before then."
Claire, from Melton Mowbray in Leicestershire, is raising money for the Whizz-kidz charity which helps provide disabled children with mobility equipment. See details on how to donate at claireschallenge.co.uk.