LiteLok take lightweight motorbike security to the next level
Published: 11 November 2021
Updated: 11 November 2021
LiteLok Core Moto on a motorcycle

LiteLok Core Moto colour options

LiteLok Moto 108
Lightweight motorcycle security specialists LiteLok have unveiled their latest product, the Core Moto. Rather than aiming to be impervious to attack, the LiteLok is intended to be as secure as possible while also being convenient to carry.
Related articles on MCN
The new Core Moto uses a Boaflexicore Plus strap with multiple layered protection, braided outer sleeve, plant-based polymer shock absorbent layer, hardened aerospace grade steel exoskeleton and high-tensile steel core.
Bit of a mouthful but that means that it manages a Sold Secure Motorcycle Gold rating and meets the 'Police Preferred Specification' of Secured by Design. And if that's not impressive enough, it also won a Red Dot Design Award 2021 for "perfectly meeting the requirements for a security lock that is simultaneously lightweight while offering the most effective protection possible against theft."
"On-the-go motorcycle security can be cumbersome and usually involves carrying a heavy chain to secure a bike," say LiteLok. "An alarming number of motorcyclists choose not to bother carrying a heavy chain and therefore don't lock up their bikes when they are out and about on the road."
The unit's inline locking mechanism is click-to-lock - meaning you only need the key to open it - while the hardened steel lock casings contain a pick-resistant disc detainer-style lock. The rivets are drill-resistant stainless steel and the lock has been tested to -40°C to make sure that it can withstand a freeze-style attack.
The Core Moto weighs just 2.5kg, which LiteLok say is 50% lighter than comparable chains and like their Moto 108 lock, it can be paired with another unit with the same key to extend the length or lock multiple bikes.
Pricing for the Core Moto starts at £149.99 and it's available in two lengths and three colours.
---

Lightweight lock launched: Portable motorbike security from LiteLok
First published 18 May 2020 by Ben Clarke
Bicycle lock makers LiteLok have designed a new lock specially for motorcycles. Certified to Sold Secure Gold standard, the lock is a flexible band with a steel core that makes it both light and easy to carry. A 1m Litelok weighs just 1.45kg whereas an equivalent gold standard lock and chain weighs anywhere between 2-6kg.
Ideal for wrapping around wheels when you're out and about, LiteLok will even sell you a matching keyed pair for more security, or to clip together for a bit more length.
Related articles on MCN
The lock casing is made from drill-resistant, hardened alloy steel with rivets of marine grade stainless steel which is harder and more resistant to corrosion that standard stainless. The strap itself is made from Litelok's own patented Boaflexicore, combining a high tensile alloy and polymer matrix.
Professor Neil Barron, the lock's designer, said: "Most Sold Secure Gold-rated motorbike locks are cumbersome, heavy and impractical, which is a pain for any biker, let alone regular commuters. Litelok Moto 108 addresses the need for optimum security but combines it with lightness and flexibility."
The neoprene skin is removeable and washable so you can get rid of any chain lube, grease or road muck that builds up on it. The Litelok Moto 108 is available now in red or black and costs £119.99 (or £229.99 for a pair).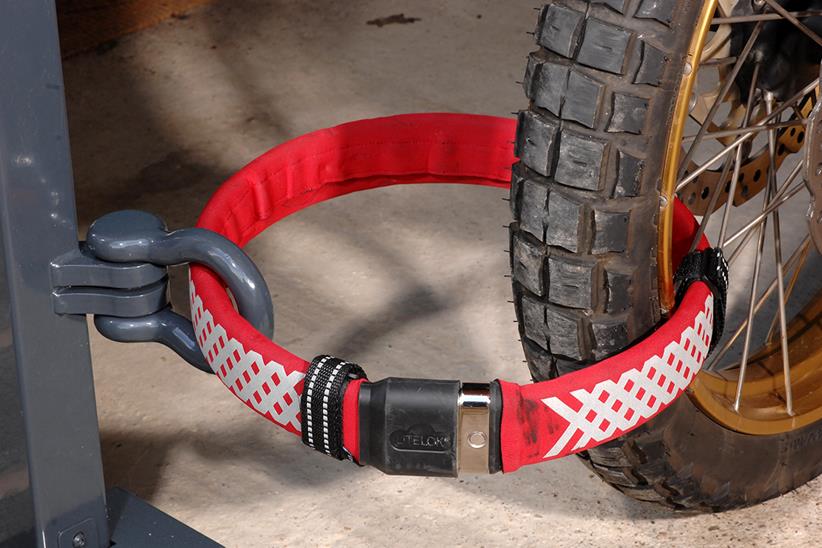 MCN Editor, Richard Newland, has been testing the Moto108 for a couple of months now and says:
"It's not often that a product arrives which instantly changes years of ingrained behaviour, but that's exactly what the Litelok has done for me. I've not carried a big lock and chain with me since about 2000, when the space under pillion seats ceased to be capable of swallowing such a security indulgence. For the last 20 years – overnight stays aside – I've only ever carried a disc lock when I'm out and about and know I'll be leaving the bike parked up somewhere. Now, I carry one of these everywhere. So why the transformation in locking behaviour?"
"Firstly, it's light, at a claimed 1.46kg (1.57kg on my scales), it doesn't feel like a strongman competition to lug it around. Second, it's Sold Secure Gold, has a drill resistant alloy steel casing, looks good, and I've not yet found a bike or ground anchor it doesn't work with. Third, its neoprene wrapped (red or black, two per lock, and it's washable) Boaflexicore 107.5cm belt means you don't have dent-inducing heavy links flopping around or hard edges dinging your paintwork or pulverising pannier / tankbag / topbox contents. Fourth, it's a doddle to use. And fifth, you can link it to another if you need more length or to link multiple bikes together (you can spec the same keys for two). It's well priced, too.
"While it holds itself in a loop, it's actually very pliable and will twist and bend with ease, and easily coils for storage (with its own restraint straps). Litelok may be new to our market, but they've been in cycling for years. Hopefully we'll see even more motorcycle products soon. For now, though, this is it – and I'm well impressed. I give it 5/5 for quality, value and ease of use."