Honda Forza 300 (2018-2021) Review
Highlights
Excellent maxi scooter with low running costs
Honda build quality
More agile and better to ride than ever
Prices
Overall rating
Next up: Ride & brakes
We're riding the significantly updated Honda Forza 300 (otherwise known as the NSS300 Forza) and can't stop smiling. With the electric screen on its lowest setting, the refreshing cool breeze can be felt. Its sportier, lighter chassis is making easy work of the congestion and the premium scooter is eye-catching in the reflections of the exclusive shop windows. Move over supercar, coming through.
On the latest version there are new clocks, Honda SMART key, (keyless ignition) and LED lights. The optional 45l top box also uses the same keyless technology.
Honda have significantly improved the Forza, it's a premium, good-looking, functional scooter, which should sell by the bucket load and continue the 2013 Forza 300's success.
The original Honda Forza 300 was low and laid back, more like a Honda DN01. This is a completely new look, with a 'mass forward' design. Honda wanted to give the Forza a quality feeling and appearance, which has worked.
There's a thiving online community for the Forza, along with PCX and SH125i scoots, at the Honda PCX/Forza/SH Forums.
Watch: Honda Forza 300 video review
Ride quality & brakes
Next up: Engine
The 2018 model is shorter, 26mm, lighter 12kg, and the wheelbase has been reduced by 35mm. The steering head is steeper and the seat height is now 64mm higher (780mm), putting the rider more in control.
The new model is far more agile than the 2013 version, which actually seemed quite nimble at the time. The differences are more obvious at low speed.
Engine
Next up: Reliability
The new Forza shares its engine with their cheaper Honda SH300i, which means a single-cylinder four-stroke, fuel injected, four-valve motor. Honda are claiming 24.8bhp @ 7000 rpm and 20fltb of torque @5750rpm.
Honda are claiming a top speed of 80mph, however on the launch in southern France we managed to edge out a few more mph. More importantly than top speed Honda are also claiming increased fuel economy, with a tank range of over 200 miles from the 11.5l fuel tank.
Reliability & build quality
Next up: Value
There is no reason to question the quality of Honda's premium Forza, the single-cylinder four-stroke engine is unstressed and should run forever.
Our Honda Forza 300 owners' reviews show overwhelmingly positive scores for reliability, which won't surprise anyone who's heard of the company's famed build quality.
Value vs rivals
Next up: Equipment
At the time, the £5099 Forza was on par with the popular Yamaha X-MAX 300 (£5199), but slightly more than the more basic Kawasaki J300 (£3999) and Kymco X-Town 300 (£3699). It's gone up £100 now so be exactly the same price as the X-MAX.
Equipment
The screen is now electronically adjustable, and one of the fastest we've ever experienced, almost like a Guillotine in reverse. It's a simple, nice and smooth action, and can be set at any level, very much like the premium Honda Gold Wing.
Honda have re-positioned the battery and radiator to give even more under-seat lockable storage. With 53.5l of space, up from 48l there is enough room for two full-face helmets, with room to spare. There's also a small storage compartment upfront, with a mobile phone holder, next door to a 12v socket.
Honda Forza 300 has HSTC (Honda Selectable Torque Control)
For the first time Honda have chosen to fit HSTC (Honda Selectable Torque Control) to their premium scooter, traction control for those who don't speak Honda. The system uses the ABS wheel speed sensors to monitor wheel speed and intervenes when it notices a significant difference between the front and rear wheel speed.
When the system intervenes, there's a flashing T indicator on the dash. Traction control may appear over-the-top for a scooter, especially when riding in the summer. But, fast forward six months, the middle of winter, wet cold diesel ridden city streets of London, we'll be thankful for some help.
Specs

Engine size
279cc
Engine type
Liquid-cooled, four-stroke, single
Frame type
Steel underbone
Fuel capacity
11.5 litres
Seat height
780mm
Bike weight
182kg
Front suspension
33mm, none-adjustable
Rear suspension
Twin rear shocks
Front brake
256mm discs with two-piston caliper
Rear brake
240mm single disc with single-piston caliper
Front tyre size
120/70x15
Rear tyre size
140/70x14
Mpg, costs & insurance

Average fuel consumption
-
Annual road tax
£45
Annual service cost
£130
New price
-
Used price
£3,400 - £5,000
Insurance group
-
How much to insure?
Warranty term
Two years
Top speed & performance

Max power
25 bhp
Max torque
20.1 ft-lb
Top speed
85 mph
1/4 mile acceleration
-
Tank range
-
Model history & versions
Model history
The original Honda NSS300 Forza was made between 2013-2018, and updated for 2019. A limited edition version was announced in 2020, retaining the same engine, geometry and styling package revealed in 2018 and pairing them with new colours, stitching, top box and more.
First revealed in 2000, Honda's mid-capacity maxi scooter has received a number of updates throughout its life and 2020 is no exception; retaining four colour schemes for the standard bike and a new Limited Edition model featuring a grey and gloss black livery, red-stitched leather seat, rim tape, colour-matched 45-litre top box and altered Forza 300 logo. Around 100 of these machines will be allocated to the UK market.
Away from the special edition, standard 300 models can also be purchased in; Crescent Blue Metallic, Pearl Nightstar Black, Matt Cynos Grey Metallic and Matt Pearl Cool White.
Underneath the changed exterior, the Forza remains the same as it has done since 2018 – featuring the familiar SOHC four-valve 279cc engine producing around 25bhp at 7000rpm, steel underbone frame, sleek bodywork and electronic gizmos.
This includes switchable Honda Selectable Torque Control (or traction control to you and me) which monitors the front and rear wheel speed in order to calculate any unwanted rear wheel slip. Once detected, the system limits engine torque via the fuel injection to get the bike back under control.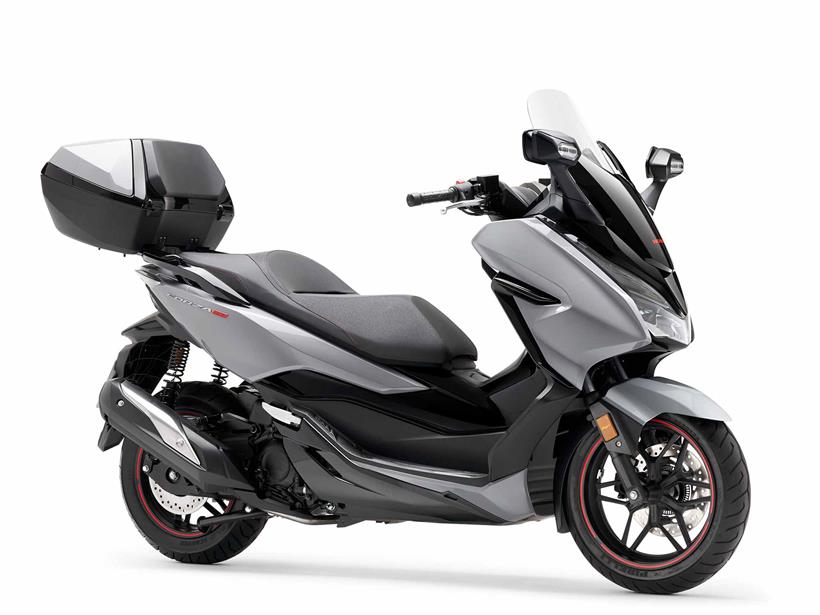 On top of this, there are also more practical measures, too, including space for two full-face helmets under the seat, which can be partitioned to store items separately, an electronically operated screen, and a lockable front left inner fairing pocket - housing a 12V charging socket.
This is secured via the bike's Smart Key, which also controls the main ignition switch and optional 45-litre removable top box. Much like many modern cars, the box will lock automatically as you walk away, or at the touch of a button if you want some extra assurance.
In 2021 it's set to be replaced by the larger Honda Forza 350.
Other versions
In 2018, Honda also slightly updated the 125 version of their Forza scooter. The Italian built Honda has been specifically produced for the European market and like the 300 is designed to be a luxurious scooter, to give the most a 125 scooter can offer.
Honda have tweaked the styling, new clocks and LED lights, but more importantly added an electronic adjustable screen. As like the 300 underseat storage has also increased, and now comfortably accommodate two full-face helmets.
The clocks are now neater; the overall design has a classy look to it. The electronic screen, as like the 300 isn't fixed and can be electronically set at any position. Under the seat space has increased by 2l, and up front there's additional storage with a separate iPhone holder and 12v socket. All the design touches give the 125 a quality feel.
The idling stop technology works effortless, like a modern car disabling the engine once you're stood still. When you want to move away you simply twist the throttle and the engine turn backs on automatically. It's designed to save fuel in town, Honda quote a 310mile tank range from the 11.5l fuel tank.
The 4v engine 125 four-stroke has some kick to it, off the mark it's more than quick enough to keep with fast traffic. Even on fast roads it's happy to cruise at 60mph and a little more. You can almost question why would you want the Forza 300 But at £4689 it's only £410 cheaper than the 300 and on PCP it's actually £10 a month more. So, the question really should be why buy the 125?
Owners' reviews

for the HONDA NSS300 FORZA (2018 - 2021)
5 owners have reviewed their HONDA NSS300 FORZA (2018 - 2021) and rated it in a number of areas. Read what they have to say and what they like and dislike about the bike below.
Review your HONDA NSS300 FORZA (2018 - 2021)
Summary of owners' reviews

Overall rating:
Ride quality & brakes:
Engine:
Reliability & build quality:
Value vs rivals:
Equipment:
Annual servicing cost:
£130
Honda what dreams are made of
01 January 2022
Year: 2019
Annual servicing cost: £100
Love the Scoot in general not keen on the keyless ingnition
Ride quality & brakes
Great storage and pillion comfort
Engine
Brilliant Engine so smooth and refined even two up with very little loss of power with the passenger
Reliability & build quality
Quality is generally good but a few of the bolt holes are slightly cross threaded noticed this when fitting rear rack. Also battery needs to be fully charged for starting !
Value vs rivals
Self serviced running costs I've had at least 2 poor dealership services. One where they'd not even checked the coolant level which was very low and caused overheating
Equipment
Great Storage enough for your sofa and one chair lol
Buying experience: Bought from Dobles motorcycles purchased without seeing was not disappointed the only thing is they haven't serviced the bike which they should have done
It's a Honda
27 December 2021
Year: 2019
Annual servicing cost: £100
Great scooter really smooth and very comfortable..the only niggle I have is to keep topping up the battery needs to be full strength to start
Ride quality & brakes
Engine
Reliability & build quality
Value vs rivals
DIY servicing is relatively easy
Equipment
Back Box gives extra storage although already ample
no bull
11 July 2021
Year: 2021
Annual servicing cost: £35
picks up speed 40 to 65 mph,very quick.comfort better than my armchair.average 90mpg,will do whatever you ask of it.will do 90mph gps.honda quality a1.thier is nothing i dislike.only regret why did it take me so long to buy scooters.fits 2 helmets under seat.had 125 forza before it.gone off motorcycles for good.
Ride quality & brakes
i remove pads and clean each 6 mths.ride all day
Engine
very smooth, better than downtown 300i and burgman 400 also owned in past.i go with a motorcycle club and its taken some member back at its performance on motorwaysalso
Reliability & build quality
6 stars it should be
Value vs rivals
retired mechanic/mot inspector. done to my standards.
Equipment
Buying experience: fitted heated gripps and seat,back box,etc etc.crewe honda £5000.
The car on two wheels that does 80+mpg, low tax and great looks
02 January 2021
Year: 2020
Annual servicing cost: £299
A brilliant alternative to a second car, stylish, economical, reliable - what's not to like?
Ride quality & brakes
Easily useful as a mini tourer on metalled roads - big generous seat, huge luggage compartment, multiple foot positions to stop the legs becoming tired, no vibrations - perfect for 20-30 miles commutes but easily capable of much longer distances.
Engine
Loads of torque, great pickup between 40-60mph - sits at 70 all day on all inclines, also useful engine braking above 15 mph - feels unburstable. The unit has been fitted to the SH 300 and has been remarkably trouble free.
Reliability & build quality
No problems at all - the usual Honda reliability
Value vs rivals
Very long service intervals for the proven 300 unit
Equipment
The standard screen is too low for those with long backs - Puig make a great replacement in smoked and clear variants. I have fitted a Givi rack and hand deflectors to keep the wind blast off the hands, also a hugger which keeps a lot of muck off the air box and cooling pipes exiting from the engine. Standard grip heaters work fine with deflectors, but a bit weak without assistance. Standard tyres are great and the charging port is really useful when the phone is using Google Maps, which can drain your phone battery quite badly; it should be a USB port, but the converter only costs £2 from a petrol station.
Buying experience: Great dealer in Norfolk - Ling's - I bought an ex-demo and it al went very smoothly, with great customer support al the way.
Brilliant lightweight tourer
29 August 2019
Version: 2018 onwards model
Year: 2018
Good points Smooth, fast, economical engine with day long comfort, low maintenance and good storage. Light weight and low CO2 emissions. Class leader.
Ride quality & brakes
Sportier handling than my previous BMW GT650 but like most scooters, jumps a bit on rougher roads and bumps.
Engine
Engine smooth, economical (90mpg) and feels unburstable. I have used mine for touring with much bigger bikes in France and will run at legal motorway speeds unstressed albeit not much in reserve at 80mph!
Reliability & build quality
Better quality manufacture than my previous BMW scooter and half the price. I would rate build so far as excellent at this price point.
Value vs rivals
Too new to comment but with enclosed drive, 90 mpg and 8000 mile service intervals it doesn't appear expensive
Equipment
Favourite features : Electric screen, 12v socket, helmet storage, light weight and day long comfortable seat. Only equipment I would have added : heated grips, tyre pressure monitors
Buying experience: Crescent Honda Southampton: excellent people to deal with
Back to top